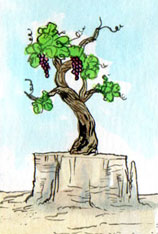 The Alta Mesa appellation, located in northern central Lodi, has 55,400 acres of which 5,300 are are under vine. As its name suggests (Spanish for high-table) this area is distinguished by its mesa-like elevation, ranging from 35 to 140 feet. The area is 90% composed of dense, heavy clay and gravel soils which inhibit deep rooting. Alta Mesa is second to the Sloughhouse appellation as the warmest area in Lodi. This appellation is red wine country with most acres planted to Zinfandel, Syrah, Cabernet Sauvignon, Cabernet Franc, Merlot.


~ David Chandler, Lodi Regional Correspondent

Shake Ridge Ranch - Gem of the Sierra
By
Roger King
May 16, 2013
Shake Ridge Ranch has set a standard for viticulture in Amador County and the incredible list of winemakers who now source fruit from the amazing vineyard above Sutter Creek tell it's story in every vintage and bottle produced.  [>] continue
[>] see all Alta Mesa ~ Lodi features (1)

HR9 Supports (CA) Historic Vineyard Society
By
Roger King
May 9, 2013

Tannat, Vibrant Across the America's
By
Barbara Trigg
May 6, 2013

Welcome Middleburg Virginia AVA
By
Roger King
January 4, 2013

Humboldt County: Is Too Much Terroir Possible?
By
Clark Smith
October 14, 2012

Historic Buena Vista Winery Restored
By
Barbara Trigg
September 18, 2012

Three Days in Humboldt County and Willow Creek
By
Barbara Trigg
August 22, 2012

Seka Hills Stands Tall in Capay Valley
By
Roger King
August 14, 2012