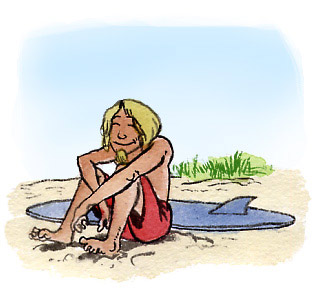 Verdelho
Verdelho, you sure are one laid backed dude! No matter what the scene, you're perfectly comfortable whether riding the big surf Down Under, hanging loose in Spain, or simply soaking in the sun and getting 'baked' in hot and humid Madeira. There's no doubt that we shall soon spot you catching waves in coastal California.

Appellations Growing Verdelho Grapes
Appellations producing the most Verdelho wines:
Verdelho (aka. Gouveio)

The name of this Portuguese white grape is most closely associated with the island of Madeira, where 'Verdelho' refers to a wine style between the drier Sercial and the more rich Bual. Verdelho wine became a rarity in the post-phylloxera era, but today is fairly widely grown in Spain, Portugal and Australia. The Verdelho vine generally yields small bunches with notably hard berries giving highly-acidic musts. In other parts of Portual, Verdelho is a recommended white variety for the production of white port in the Douro as well as crisp dry whites in Dão.