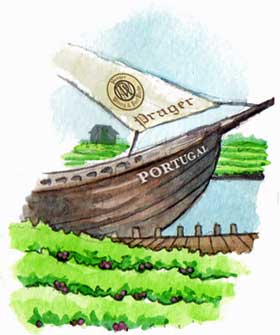 A visit to Prager Port Works:
Has the ship finally come in for California Port-style wines?
The classic Portuguese dessert wine hasn't had nearly the popularity in America that it has in Europe. But an interview with Peter Prager whose winery specializes in Port-style wines reveals its popularity in the U.S. is on the rise.
by Alan Goldfarb
March 23, 2007
---
The Prager vineyard, which used to grow Muscat that went to Mondavi before the family purchased it eight years ago, sits on a flat north of the town of Calistoga. Its neighbors are Summers Winery and the Work Sauvignon Blanc vineyard.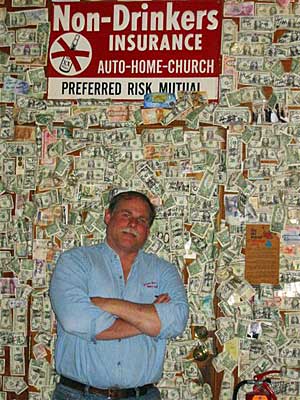 The soils consist of clay, while a gap through the western hills and eastern palisades brings cool breezes and even some fog influence, which holds the acidity of the grapes. The Pragers have planted five acres of
Petite Sirah
from which they make a table wine as well as a Port-style wine. The other 5½ acres are almost equally divided among the four Portuguese varieties.
The Pragers have a permit to break ground on a new winery facility there. But before they can do that, according to Peter Prager, they are looking for an investor to help defray the costs, and perhaps even to aid in purchasing some more land, this time on Howell Mountain. It is there that Prager surmises that Portuguese grapes will do best in the valley.
In the meantime, Prager has released two wines thus far from the Calistoga property. It purchases fruit from other Napa Valley sources, including the Paladini Vineyard in St. Helena from which it makes a fortified wine called Royal Escort. However, only seven vintages have been declared in 25 years, which is one reason why the wine, of which there are only about 1,000 cases produced, sells for $80.
It sells out, too, but for Peter Prager, real success and acceptance of his wine can't come soon enough. On a recent tour of his vineyard, the St. Helena port works winemaker voiced his frustration at having to constantly prove his wine's worthiness. At the same time, Prager is pleased that Port-style wines seem to be finally capturing the hearts and minds of wine consumers, who are beginning to understand the style and embrace its sweet allure.
Alan Goldfarb (AG):
Why did you plant Portuguese vines?
Peter Prager (PP):
Because we do Port. Because we're a Port house.
AG:
But you've been making Port-style wines from Petite Sirah for a long time; why did you plant Portuguese vines eight years ago? Are you now staking your reputation on these grapes?
PP:
We thought we'd like to get into Portuguese varieties. We're not trying to put our reputation on one wine. (But) we're still on a learning curve with this vineyard. (Imogene, Prager's Portuguese varietals vineyard in Calistoga from which he has begun to produce a Port-style wine called Tomás).
We'll see what we come up with in the coming years. We're not even above blending in our Petit Sirah. But that's why I like making wine here in America. Here we can do whatever we damned well please.
AG:
It sounds as if you're frustrated that Americans haven't been attracted to Port-style wines.
PP:
We're right on the cusp of Port getting popular here … I think we've been ahead of the curve.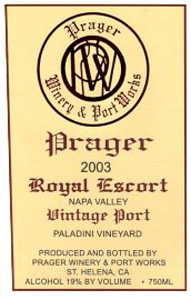 AG:
About 25 years ahead.
PP:
Well, because it's a sweet wine, it has been looked upon as a novelty or (Port-style) wines that are produced here are not for the sophisticated wine drinker. But we chose this battle, so we're in it.
AG:
You sell your Royal Escort, which is made from Petite Sirah, for $80. That's not a wine for the average consumer. That's a pretty sophisticated price to me.
PP:
By the way, we've only declared that wine a Vintage Port seven times in the 25 years we've been making it. … We're trying to overcome the reputation of what these wines mean. It's not the nasty (sweet) stuff you find on the street or what grandma drinks before she goes to bed. (Port made outside of Portugal) never has been respected by a lot of wine writers. It's been a big source of frustration (for me) and it's been an uphill battle. But it seems to be turning.
AG:
Why did you decide to plant these Portuguese varieties in Calistoga? After all, Portugal is a bit more of a maritime climate. Might it be too hot there?
PP:
We were trying to find a warm climate. It's at the base of Mount St. Helena and we get cooling winds and some fog influence — and that's what we could afford. We'd like to plant up on
Howell Mountain
(as Heitz has done). Every time I look up at the palisades, I think of what they do in the Alta Douro. There, they crush up the rock and make it into soil. I think we can get more intensity on Howell.
AG:
What do each of the red varieties that you have planted lend to the wine?
PP:
The Tinta Cao gets picked later and it adds acid. It's not my personal favorite, but it keeps the structure alive.
AG:
Why isn't it your favorite?
PP:
Our research showed that it was going out of favor because of its low yield. But we get 10 to 14 tons an acre! If you want to make a Tawny, use the Tinta Cao. However, what we're thinking of doing this year with the Tinta Cao is going in and thinning because of the prolific nature.
AG:
What will thinning do?
PP:
If you cut some of the fruit off early, the vine will expend all its energies on fewer clusters. It's better for the fruit and you get richer qualities.
AG:
I know that with this vintage it'll only be your eighth leaf with these varieties, but you haven't thinned before?
PP:
No, we haven't. The 2005 was a big harvest across the board and the '04 is the first abundant harvest we got off it.
AG:
And the other varieties?
PP:
The Tinta Roriz (which is Spain's Tempranillo) adds a fruity character, and the Touriga, which ripens in the middle, adds structure, fruit, and backbone. I'm still looking for intensity for the Touriga but there's a lot of water coming down from the eastern hills. We have drainage tiles, but we have to pump out the water all the time.
But there's so little known about these varieties here. Everyone here knows how to grow Cabernet, but in Portugal (these varieties) grow in a very hostile environment, so that's what we may have to do here. We may have to put it on the hillsides or dry farm it. After the vines get to a certain point (older) we'll shut it off (the water) and let them struggle, especially with the