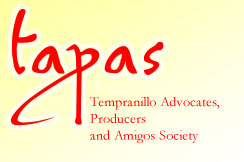 TAPAS can enlarge your brain...
and extend your life
by Roger Dial
August 11, 2008
---

otably, boredom
in the minds of that body of consumers who sustain 95 percent of our 5,000-plus wineries for no better reason than the fact that they find wine "interesting" and are willing to pay handsomely to explore their chosen interests. These are the so-called "wine enthusiasts" who have been the lifeblood of our tenuous North American wine culture. Simply put, when consumer ennui hits these folks, this industry is fried.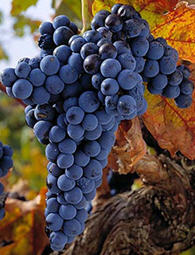 To the extent that we even have a fringe of traditional Euro-style
Wine-as-Food
culture on this side of the Atlantic, it is the Gallos and Broncos and a handful of other smart industrial producers who will effectively service that market. But, for better or worse, the remaining thousands of wineries are really in the
Wine-as-Fashion
business. Their pitch has to be at the brain, not the belly of interest-driven wine enthusiasts. It's not about a commodity to wash down a mouthful of mama's linguine; it's about a substance that purports to be a focal interest in bourgeois lifestyle. In the
Wine-as-Fashion
world, CaMeZinPiSy just doesn't cut it. BORRRIIING!!! .
Well, this old alarmist is here with Good News! Add
TAPAS
to your mental inventory of essential acronyms. The Tempranillo Advocates, Producers and Amigos Society, an organization that promotes the production of Iberian grape varieties in the U.S., has arrived to beat back the boredom. Hey, amigo, if you are feeling a touch of vinous ennui creeping in around the edges of your passion for wine, you should immediately fall in line with these bold exploring conquistadores.
TAPAS can definitely enlarge your brain…
and extend your life as a wine enthusiast.
Bold claim, you may say? Well, having personally undergone the TAPAS revitalization treatment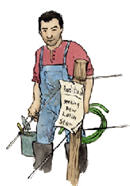 recently at the organization's first annual confab staged at Napa's Copia Center, I am prepared to highlight the precise neurological regions of my own cell rejuvenation and the commensurate expansion in mental capacity, which has miraculously occurred in the process. These neurological observations will be accompanied below by prescriptions for the curative elixirs which have accounted for renewed health in each cerebral zone.
The "First Step" in mind expansion, for me, came with a quick look at Appellation America's own
Varietal and Appellation Indexes
. While
Tempranillo
may be leading the advance column, there are a couple of dozen other distinct Iberian varietal characters in the fascinating train of new flavors.
Don't be intimidated by Spanish and Portuguese pronunciations…remember, you eventually got it right with
Viognier
...

.and you can always reach for Franco-Spanish crossover synapses like Mourvedre for Mataro and Grenache for Garnacha. Just work on it a bit and you will find room for all these happy little
amigos
in the ever-expanding
let's-make-friends lobe
of your mind.
And, don't hesitate to test your
tolerance lobe
by spending some time with
Bastardo
, who, for example, you will find residing (100%) in St. Amant Winery's Tawny (style) Port. Winemaker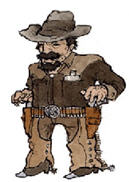 Stuart Spencer reports that unceremoniously slamming Bastardo in a barrel and totally ignoring him for a few years is the secret to turning this
vitis-desparado
into the supple sweetheart he came across as when I tasted the wine. Tough love…well, maybe just tough!
Expect major expansion in the
geographic horizons lobe
of your grey matter, as well. These conquistadores have penetrated further into the continent that you may have suspected. For example, you will find Tempranillo laying claim to about 2,000 acres in 45 winegrowing appellations, with beachheads as far east as Virginia (
Chrysalis Vineyards
), as far north as the Lake Erie AVA in Ohio (Hermes Vineyards), and then a pretty continuous band of producers following the missionary trail across Texas, New Mexico, Arizona, California, and beyond into Oregon and Washington.
All in all, this portends for a pretty interesting mix of terroir patterns to
bend
, if not
blow
, your ennui-leaning mind. In appellations, such as Texas High Plains, Sonoita, Lodi, and Southern Oregon, we are going to find the hot and arid conditions that ring true to our recollections of Tempranillo's homeland. But consider Tempranillo and his compadres in coastal, mountainous and verdant venues like Carneros, Santa Ynez Valley, Calaveras County and the Willamette Valley. Expect lots of flavor profile diversity, on terroir grounds alone. Now it's getting really interesting! Who could be bored with this complexity?
Beyond Terroir: Winemaking and Varietal Choices
Rich as the ecological diversity is, terroir is not a stand alone in expanding our mind with these wines. Always there are the winemaking style choices, not to mention the core character of Tempranillo as a varietal, to further challenge the thinking and experience for the producer and consumer, alike.
To my knowledge, pretty much everywhere it grows, Tempranillo looses acidity faster than it builds sugar at the end of the season. For better or worse, this has limited its utility as a "fruit bomb" style wine. In effect, Tempranillo's basic character probably disqualified him from ever joining the CaMeZinPiSy hordes. To be sure, more or less round, soft tannin Tempranillos are in the spectrum; wines such as the 2005 St. Amant (Amador County), Tejada Vineyards 2005 (Lake County) and the Red Lily 2003 (Rogue Valley) convey that style admirably.
Other winemakers build to the more full and fruit forward model by Bordeaux-style blending, treating Tempranillo more or less as if it was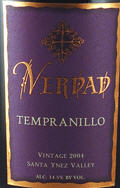 READER FEEDBACK: To post your comments on this story, click here
Print this article  |  Email this article  |  More about America  |  More from Roger Dial