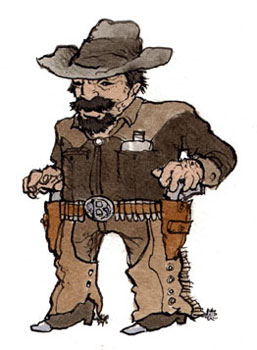 Bastardo
"Not from around these parts, are you stranger?"

...Your character seems straight out of an old
western movie. Your skin is dark, your manner
aggressive, and your breath is almost always
fiery. One step ahead of the law, you might
have been outlawed had the sherriff discovered
that the one he knew as Trousseau was actually
the feared Portuguese bandit known as 'Bastardo'.

Appellations Growing Bastardo Grapes
Appellations producing the most Bastardo wines:
Bastardo (aka. Trousseau)

Bastardo is just one of the many allowable varieties for the production of Port - Portugal's famed fortified wine from grapes sourced from the steep terraced vineyards of the Duoro Valley. The Bastardo grape is generally not as highly regarded as other Port varieties, such as Touriga Nacional and Touriga Francesa. Bastardo's greatest virtue is the high natural sugar content of its grapes -- a desirable characteristic for fortified wine production. For this same reason, the grape has been planted in California, where it has been traditionally known by its French alias, Trousseau, and only recently referred to as Bastardo. Somewhat surprisingly, this variety which seems so well suited for hot and arid conditions, also appears in France under the name Trousseau in the alpine region of the Jura. In this region known more for the quality of the skiing and its sherry-like Vin Jaune, Trousseau is used to make deeply pigmented, tannic wines.