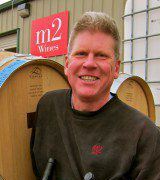 Expressing Lodi at M2 Wines with 'Little Gem' Vineyards
by Roger King
March 26, 2012
Lodi has been a mainstay of California grape and wine production for well over 100 years, but recently a wave of smaller boutique producers have taken focus to defining the clear potential of single vineyard expressions from the massive appellation. Along the way nuances between it's 7 sub appellations are beginning to unfold. It is clear there is significant reason to continue this exploration of the heart and soul of Lodi.
[>] see full story
Related Stories...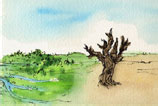 Settled at the northern tip of the San Joaquin Valley just east of the San Francisco Bay, where the fertile and diverse soils begin to make their gentle ascent to the foothills of the Sierra Nevada, Lodi boasts a classic Mediterranean climate consisting of warm days and cool evenings accented by a gentle maritime wind from the Sacramento River Delta. This delta breeze makes Lodi unique among other areas of the San Joaquin valley as the lower temperatures allow the ripening fruit to retain natural acidity.

Lodi is also remarkable in the diversity of its soils, though they can generally be characterized as deep and composed of sandy loam, sometimes spotted with the large stones reminiscent of the famed 'galets' of the Chateuneuf-de-Pape region in southern France. The Lodi appellation covers 551,500 acres, beginning at the Delta and running south and east, ending where the Sierra Foothills begin. The eight-hundred growers in Lodi farm over 90,000 acres of winegrapes and produce more of the top five California varietals - Cabernet Sauvignon, Chardonnay, Merlot, Sauvignon Blanc and Zinfandel – than any other wine district in California! While Lodi is known for its capacity for varietal diversity, Zinfandel is the reigning king without rival, as more of it is grown in Lodi than anywhere else in the world. Old Vine Zin is Lodi's specialty, with the same families tending vines over 120 years old for five generations. Lodi Wine Country is host to roughly sixty wineries, five of those being major producers including Woodbridge by Robert Mondavi, Sutter Home, Delicato, and Turner Road Vintners.

~ Dave Chandler, Lodi Regional Correspondent

Shake Ridge Ranch - Gem of the Sierra
By
Roger King
May 16, 2013
Shake Ridge Ranch has set a standard for viticulture in Amador County and the incredible list of winemakers who now source fruit from the amazing vineyard above Sutter Creek tell it's story in every vintage and bottle produced.  [>] continue

Expressing Lodi at M2 Wines with 'Little Gem' Vineyards
By
Roger King
March 26, 2012

Appellation Profile
Lodi, California - Seven AVAs in One
By
Dan Berger
April 25, 2007

Lodi Architects Seven New Appellations
By
Dave Chandler
July 31, 2006

Lodi region moving toward more specific origins for its wines
By
Adam Dial
September 5, 2005

HR9 Supports (CA) Historic Vineyard Society
By
Roger King
May 9, 2013

Tannat, Vibrant Across the America's
By
Barbara Trigg
May 6, 2013

Welcome Middleburg Virginia AVA
By
Roger King
January 4, 2013

Humboldt County: Is Too Much Terroir Possible?
By
Clark Smith
October 14, 2012