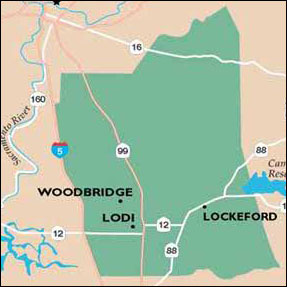 Lodi region moving toward more specific origins for its wines
...the vastness of the Lodi region does not adequately recognize the diversity of terroir that exist within its boundaries.
by Adam Dial
September 5, 2005
---
The movement toward recognition of more specific appellations of origins is in full swing in America's established winegrowing regions. Earlier this year, we began to see the delineation of unique growing areas within Oregon's Willamette Valley appellation. The Willamette Valley is one of North America's preeminent regions for Pinot Noir, albeit, a broad territory with heterogeneous growing conditions -- the reality that was the driving force for its subdivision into new AVAs: Dundee Hills, McMinnville, Ribbon Ridge, and the Yamhill Carlton District (with Chehalem Mountains and Eola Hills still pending).
The trend toward more defined origins of wine is not isolated to the Pacific North West.
The Lodi region, with approximately 75,000 acres of vineyards spread across a growing area covering roughly of a half million acres of land, has had official recognition as an AVA since 1986.
The highly productive region leads all California wine districts in the production of the state's top five varietals -- Cabernet, Merlot, Chardonnay, Sauvignon Blanc and Zinfandel. However, the vastness of the Lodi region does not adequately recognize the diversity of terroir that exist within its boundaries and the myriad of wine types emanating from its assorted vineyard locations.
Recognizing the growing value of appellation specific marketing a number of winemakers and growers within the region seek to better define where their wines come from. In a process that started 3 years ago this month, with a petition being filed with the Alcohol Tax & Trade Bureau (TTB) -- the government department that oversees the approval of recognized viticultural areas (AVAs) -- the proposal finally reached the 60 day public comment stage in mid August -- one of the final hurdles to achieving official designation for seven distinctive growing areas within the Lodi zone. The seven proposed distinctive AVAs are:
Alta Mesa
,
Borden Ranch
,
Clements Hills
,
Cosumnes River
,
Jahant
,
Mokelumne River
and
Sloughhouse
.
Interestingly, in the same month that the petition for subdivision was first filed, a separate proposal for an expansion of the existing Lodi territory had been petitioned and approved, adding a further 93,000 acres to the south and west of the original 458,000 acre zone first designated in 1986. None of the proposed sub-appellations include any of the land in the 2002 expansion.
Behind the movement to better define Lodi's growing areas is the Lodi American Viticultural Areas (LAVA) Steering Committee, which is co-chaired by
Markus Bokisch
and
Keith Watts
-- both growers turned winery owners in the Lodi region. Bokisch and Watts, along with 14 other committee members and the assistance of the Lodi District Grape Growers Association, the Lodi-Woodbridge Winegrape Commission, and the Lodi Appellation Wineries Association, researched and amassed an extensive and thorough report with historical and science-based documentation outlining the variations in soil, climate, topography, and elevation from one end of Lodi to the other. From their research, they have concluded that the following seven different growing areas exist and deserve recognition as individual and distinct appellations:
Alta Mesa – north central part of Lodi. As suggested by the name (Spanish for "high table") this growing area is distinguished primarily by its flat tabletop or mesa-like elevation which ranges from 35' to 138'. Another unifying feature of the area is the Joaquin soil series which covers 90% of the region's 55,400 acres (5,000 planted). These are dense heavy clay and gravel soils which inhibit deep rooting. Alta Mesa, with the exception of the more inland Sloughhouse area to the immediate east, is the warmest area of Lodi. The proposed AVA is planted to primarily red varietals like Cabernet Sauvignon, Cabernet Franc, Merlot, Syrah, and Zinfandel.



Borden Ranch – east central part of Lodi with approximately 11,000 of its 70,000 acres currently planted. The area has the most irregular and varied topography of the Lodi region and vineyards occur on varied slopes, elevations, and exposures. The defining feature of the area is the well drained stone laden stream deposit soils of the Laguna and Dry Creek, two streams which flow form the Sierra foothills eastward to the San Joaquin Valley, marking the areas northern and southern boundaries respectively. Elevations rise from a low of 73' in the west, to a high of 520' closer to the Sierra Range in the east. Borden Ranch is planted to mostly red varietals and is home to the expansive vineyards of large producers like Mondavi-Woodbridge, Sutter Home, and Delicato.



Clements Hills – the second largest area with 85,400 acres (approx 20,000 planted), covering the southeastern part of Lodi. The area is described as a "hilly transitional" region separating the lower, flat San Joaquin Valley floor to the west, and the higher, more mountainous Sierra Foothills to the east. The topography is marked by rounded rolling hills ranging in elevations from 90' to 400' and is characterized by low vigor soils with moderate water retention. Varied microclimates result from the hilly terrain, but the overall climate is warmer and wetter than western portions of Lodi. Again, red varieties prevail, including Bordeaux, Rhone and Spanish varietals.



Cosumnes River – a 54,700 acre (3,000 planted) area in the northwestern part of Lodi. Defining the proposed appellation is its "relatively cool and windy growing season" and its "young alluvial soils and low-elevation terrain". The low lying Cosumnes River floodplain has elevations that dip to almost sea-level, rising to a high of just 48', leaving the area prone to persistent maritime and inland fog which contribute a cooler climate relative to other parts of Lodi. This climate and the moderately fertile alluvial and organic soils support primarily white varietals, as compared to the red dominated areas of eastern Lodi.



Jahant – the smallest of the proposed AVAs at just 28,000 acres -- about a third of which is planted -- occupying the central part of the Lodi region. The viticultural area is defined by its unique pink Rocklin-Jahant loam soils -- the proposed AVA boundaries are marked by the extent of these soils. Another distinguishing feature of Jahant is its cool and dry growing season, which along with the proposed Mokelumne River appellation to its immediate south, is the coolest of the Lodi region. The cool climate results from the area's relatively low elevations (ranging from 10' to 100') and its proximity to the Sacramento Delta allowing intense and prolonged winds to blow inland, further compounded by persistent fog. Originally planted to red varieties, the cool climate is seeing an increased focus on whites with recent plantings.



Mokelumne River - the largest of the proposed areas with 85,700 total acres -- close to half of which are planted to grape vines. The city of Lodi is at the hub of the area, which is distinguished by its "classic, young" alluvial fan of sandy loam soils. These soils are described as being of a fine granular texture, deep and well drained. The Mokelumne River area shares an almost identical range of elevation as the Jahant area described above. Its climate, experiencing the same Delta influences as the proposed Jahant area, is described as being notably cool and breezy. With the Lodi region's most vigorous soils, this area was the earliest planted part of Lodi, and is home to the regions major wine producing facilities.



Sloughhouse (Deer Creek Hills) – a 78,800 acre (7,000 planted) area located in the northeastern corner of the