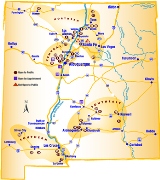 Bringing the people to the wine:
How New Mexico connects wines, tourism and its unique cuisine
by Eleanor & Ray Heald
March 4, 2008
New Mexico has tremendous historical relevance to North American and US wine production. Predating most known wine states of today by a century the industry became shadowed by evolved appellations such as California, but vines never left this ground. Today a revitalization continues across the state. Most vineyards are in the far south but brave soles have pushed up the Rio Grande to places above Sante Fe and canyons just short of Taos. Winemaking talent certainly followed.
[>] see full story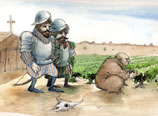 In 1629, Franciscan friar Fray Gracia de Zuniga and Antonio de Arteaga, a Capuchin monk, planted the Mission grape along the shores of the Rio Grande, making New Mexico the first grape-growing state in America. By 1880, there were over 3,000 acres under vine, producing more than one million gallons of wine. New Mexico would have ranked fifth in American wine production at that time. However, within a decade the Rio Grande began to overflow, with groundwater often reaching the soil's surface, turning the land into swamp. Grapevines rotted in the ground. By 1900, wine production was three percent of what it had been only 20 years before. The second American wine revolution began in New Mexico in 1978, when a major, government-sponsored study encouraged vignerons to plant French hybrids. Today, the state has three approved viticultural areas and over 20 wineries, with both hybrids and an abundant amount of quality vinifera plantings. The high desert climate, with hot days and cool nights, makes this a quality winegrowing region with a promising future.

Taking Focus on Appellation
By
Clark Smith
December 9, 2013
Appellation America has entered its second decade on the web. Much has changed since the start, but the core focus remains characterizing the unique flavor profiles of North America's appellations and the natural influences and human cultural forces which influence them.   [>] continue
[>] see all New Mexico features (1)

Whitehall Lane Winery, A 20 Year Story of Vineyards
By
Roger King
July 15, 2013

Embracing Virginia's Terroir
By
Richard Leahy
June 2, 2013

Shake Ridge Ranch - Gem of the Sierra
By
Roger King
May 16, 2013

Tannat, Vibrant Across the America's
By
Barbara Trigg
May 6, 2013

Welcome Middleburg Virginia AVA
By
Roger King
January 4, 2013

Humboldt County: Is Too Much Terroir Possible?
By
Clark Smith
October 14, 2012