---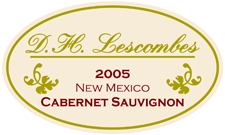 St. Clair Vineyards
2005 DH Lescombes Cabernet Sauvignon
(New Mexico)
Red wines with alcohol above 14.5 percent have been discussed many times in APPELLATION AMERICA postings. Many opinions have been expressed, yet we believe that a wine should not be judged on "numbers" alone (hopefully you get the dual meaning).

What's different about red grape growing in New Mexico as compared to California is that in New Mexico, sugars do not race ahead of physiological ripeness and "hang time" is not needed to attain a desired flavor profile. At 15.4 percent alcohol, the D.H. Lescombes Cabernet Sauvignon is balanced. It is not the least hot in the finish. A black fruit mélange is plush and lush with blackberry, black cherry, black currant, dark plum, brown spices and chocolate in evidence. In fact, its structure is reminiscent of a fine Bordeaux and portends ageability.

Funny that we say Bordeaux, because sixth generation family winemaker Florent Lescombes hails from Burgundy and recommends that you try his Cabernet Sauvignon with any pork, lamb or beef preparation.
Reviewed March 7, 2008 by Eleanor & Ray Heald.
Other reviewed wines from St. Clair Vineyards
---
Winery: St. Clair Vineyards
Vintage: 2005
Wine: DH Lescombes Cabernet Sauvignon
Appellation: New Mexico
Grape: Cabernet Sauvignon
Price: 750ml $21.00



Eleanor & Ray Heald

The Healds have been writing about wine since 1978 and have focused on appellation significance in many of their world beat writings. They value recognizing site personality (terroir) within an appellation's wines. They praise balance and elegance in wines styled to pair well with food and eschew over-extraction, high alcohol and heavy-handed oak. "Delicious" is their favorite descriptor for a great, well-made wine.