Tony Aspler
Tony Aspler has been reviewing wines since 1975 and will continue doing so until he gets it right. Although his license plate is CLARET, he enjoys all wines except sparkling Retsina. He says he's not a wine critic but a wine evangelist because he wants to turn readers onto wine rather than turn them off. His style is telegraphic rather than poetic because there are only so many ways to say 'mellow tannins'.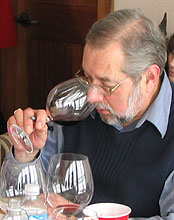 Dan Berger
Dan Berger has been reviewing wine for 30 years, always seeking character related to varietal type and regional identity. He has never used numbers to rank wine and doesn't plan to start any time soon. He believes that weight and concentration aren't the only worthy aspects of wine and is especially smitten by cool-climate and food-friendly wines that offer distinctiveness.

Cole Danehower
Cole Danehower is the creator of the Oregon Wine Report. A frequent judge and a member of Northwest Palate magazine's review panel, Cole's palate is particularly attuned to Northwest wines. He believes numerical scoring is inadequate in conveying the character of a wine, preferring to communicate his experience and evaluation of a wine through words. A believer in terroir (especially in Oregon's cooler growing regions) he also pays attention to the impact of winemaking style and vintage variation on a wine. He views balance, flavor purity, and a sense of character as key vinous virtues.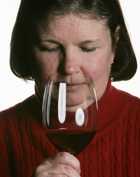 Laurie Daniel
Laurie Daniel, wine columnist for the San Jose Mercury News, has been reviewing wine for more than 10 years. She doesn't use numbers, preferring to describe her recommended wines and let consumers decide for themselves. Laurie believes that bigger isn't necessarily better; she's partial to wines of balance, finesse and character. Her particular interests are Pinot Noir (versions that really taste like Pinot, that is) and aromatic whites like Sauvignon Blanc, Riesling and Gewürztraminer.

Jean Deitz Sexton
Jean Deitz Sexton's first experiences with wine were drinking Italian wine as an NYU college student in New York City. She continues to have a love of red wines with a reasonable alcohol level, that have rich flavor, good fruit yet softness. Deitz Sexton has a great fondness for Rhone varietals, anything with bubbles and of late, is obsessed with blends. Her approach to wine reviewing is pretty straightforward: does it have a pleasant nose, clarity of flavor, interesting notes, good mouth feel, and a satisfying finish?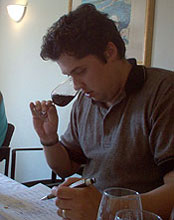 Mark DeWolf
Mark DeWolf is a wine educator, sommelier and wine editor. His approach to wine judging and education comes from the heart. Great wine, like great food is not merely a matter of technical precision, it is about its ability to evoke emotion. According to Mark, a great wine is a passionate experience and should conjure images of the people who made it and the land from which it originated.
Roger Dial
Under various hats (winegrower/maker/negotiant/writer) Roger Dial has been tasting wine professionally for 40 years. He regards varietal and regional diversity as the best virtues of wine, and is ever-suspicious of the quest (by producers and critics, alike) for "universal greatness". His tasting regime is simple: Is the wine technically sound? Is it interesting? Warning: he's a sucker for all aromatic varieties.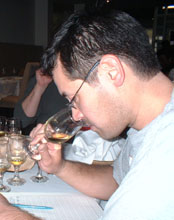 Adam Dial
Brought up in a family with winery ventures in both California and Canada, Adam Dial seeks and appreciates diversity and individuality in wines. He is a Sommelier with more than two decades of experience in the hospitality and service industry, and is a respected wine educator, judge and industry advisor. In 2003 Adam Dial co-founded Appellation America.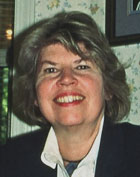 Barbara Ensrud
Barbara Ensrud has been writing about and reviewing wines since 1979, with a nationally syndicated column for the New York Daily News and numerous other publications. Her "no numbers" approach to evaluating wine is simple: how does it taste – on its own, as well as with particular foods? Is it good value, whether $10 or $210? Does it measure up in terms of varietal character and regional identity? …"When I taste a good wine, I can't wait to share it with fellow wine lovers."

David Falchek
David Falchek writes a weekly wine column for several newspapers in Pennsylvania, including the Scranton Times-Tribune. He also contributes regularly to trade publications such as Vineyard & Winery Management and Beverage Media. David has judged regional, national, and international wine competitions where he likes to think he lauds outstanding Seyval or Foch just as readily as Cabernet or Riesling.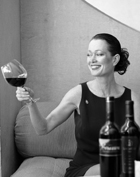 Catherine Fallis
Founder and President of Planet Grape LLC, a company committed to bringing the joy of wine, food, and good living into the lives of everyday people, Catherine is creator of the "grape goddess guides to good living," a series of books, television presentations, seminars, and e-learning programs. The fifth woman in the world to become a Master Sommelier, grape goddess Catherine Fallis is still very much down-to-earth.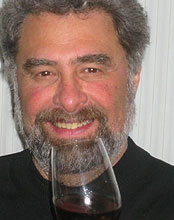 Alan Goldfarb
Alan Goldfarb has been writing about and reviewing wine for 17 years. His reviews have been published in the St. Helena Star, San Jose Mercury, San Francisco Examiner, Decanter, and Wine Enthusiast, among others. Not once has he used a point system, star system, or an iconic symbol to quantify a wine. What counts in Mr. Goldfarb's criteria when judging a wine is: how it tastes in the glass; is it well-constructed; its food compatibility; and presence of redeeming regional attributes.

Eleanor & Ray Heald
The Healds have been writing about wine since 1978 and have focused on appellation significance in many of their world beat writings. They value recognizing site personality (terroir) within an appellation's wines. They praise balance and elegance in wines styled to pair well with food and eschew over-extraction, high alcohol and heavy-handed oak. "Delicious" is their favorite descriptor for a great, well-made wine.

Michael Lasky
APPELLATION AMERICA's Managing Editor, Michael Lasky, has been writing about food and wine for over 20 years. His work has appeared in national magazines such as Playboy, Esquire, GQ, and Parade, and newspapers such as The New York Times, USA Today, Newsday, and the San Francisco Chronicle. His wine reviews focus on the aroma, taste, and visual appeal of what's in the glass. He is decidedly not a wine snob and prefers to describe its virtues in conversational prose that speaks to everyone from wine neophytes to veteran connoisseurs. He only reviews delicious wines.

Gregory McCluney
Greg McCluney has been writing about wine since 1987 and has judged many competitions including the Atlanta International Wine Summit, Florida Suncoast Winefest, Northwest Wine Competition and the Dallas Morning News Wine Competition. His work has appeared in numerous regional, national and international publications including Wines & Vines, AirTran Arrivals in-flight magazine, Atlanta Magazine, the Atlanta Journal-Constitution, Tampa Bay's Best, Atlanta Wine School and the James Beard Foundation publications. He conducts wine education classes and consults on wine selections for retail and restaurant clients.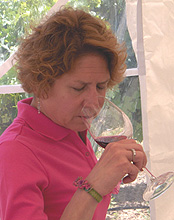 Laura Ness
A wine writer and wine judge for major publications and competitions around the country, Laura Ness likens wine to the experience of music. She is always looking for that ubiquitous marriage of rhythm, melody, and flawless execution. What is good music? You know it when you get lost in it. What is good wine? It is music in your mouth.

Tim Pingelton
As a professional winemaker and writer, Tim Pingelton understands how growing conditions and vinification techniques affect the grapes as they become wine. As an Appellation America correspondent, he realizes that a balance must be struck between standards in flux and standards fixed in time. Tim continually explores the areas about which he writes to personally relate how their wines do or do not embody appellation-specific characteristics.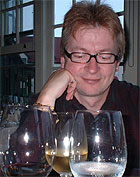 Craig Pinhey
Craig Pinhey is a professionally certified Sommelier, educator, wine judge, and wine writer. He is on the tasting panel for Wine Access, Canada's most respected wine magazine, and is the provincial wine columnist for the New Brunswick Telegraph Journal. Craig appears weekly on CBC Radio, and is regular beverage columnist for Halifax's The Coast, East Coast Living, Progress Magazine, and [here]: New Brunswick's Urban Voice. He prefers wines with mineral and earthy notes, distinct varietal fruit and regional character, and moderate alcohol so he can drink more of it.

Joe Pollack
Joe Pollack has been writing about wine since 1972 and doesn't like numbers, believing that if you give a wine 100 points, you're saying you will never taste anything better, which is exactly what you hope for every time you drink wine. Pollack likes hearty reds, like the Norton of Missouri, Italian Primitivo, big Syrahs and Cabs that make a steak dinner sing. His exception to that rule is provided by a Provencal rose on a summer picnic.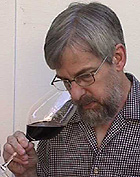 Dennis Schaefer
Dennis Schaefer has been tasting and writing about wine for over 30 years, propelled by a continuing curiosity and burgeoning enthusiasm for discovering what's in the bottle. Blessed with catholic tastes, he enjoys everything from the obvious to the sublime. A major requirement is that the vineyard, winery and winemaker consistently perform well and fulfill their potential. Balance, concentration and complexity are key to the tasting experience but, in the end, the purpose of wine is simply to give pleasure.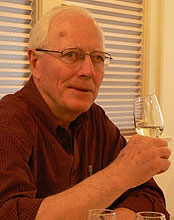 John Schreiner
John Schreiner has been covering the wines of British Columbia for the past 30 years and has written 10 books on the wines of Canada and BC. He has judged at major competitions and is currently a panel member for the Lieutenant Governor's Awards of Excellence in Wine. Both as a judge and as a wine critic, he approaches each wine not to find fault, but to find excellence. That he now finds the latter more often than the former testifies to the dramatic improvement shown by BC winemaking in the past decade.

Lenn Thompson
Lenn Thompson writes about New York wines for Dan's Papers,
Long Island Press, Long Island Wine Gazette, Edible East End and Hamptons.com. Two words describe his taste in wine — balance and nuance. Lenn prefers food-friendly, elegant wines to jammy, over-extracted fruit bombs and heavy-handed oak. When reviewing, Lenn tastes each wine three times — alone right after opening, with food, and again the next day — believing that 90-second reviews are unrealistic and not how the average person enjoys wine.

Appellation America Tasting Panel
The combined experience and diverse palates of our editorial and reviewing staff. We are ever on the lookout for notable examples of wines of regional character to offer as a collective recommendation to our readers.