---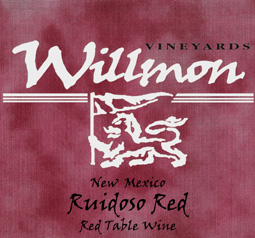 Willmon Vineyards
NV Ruidoso Red
(New Mexico)
Ruidoso Red is a most unusual blend of three grapes – Zinfandel, Tempranillo and Muscat of Alexandria - that Willmon Vineyards proprietor/winemaker Scott Willmon grows in southern New Mexico.

In the Oxford Companion to Wine, Jancis Robinson says, "there are at least four principal varieties of Muscat." Muscat of Alexandria is one of them and Robinson maintains it's "ancient" and "in hot climates, it can thrive and produce a good yield of extremely ripe grapes but their chief attribute is sweetness."

Bingo! A good choice for southern New Mexico and one of the 20 varieties that Willmon has planted. And it does make this red blend off dry, pleasant and mellow. It's interesting when slightly chilled and for those who'd like to enjoy red wines more but find most too dry, a good choice. It's Willmon's best seller.
Reviewed March 4, 2008 by Eleanor & Ray Heald.
---
Winery: Willmon Vineyards
Vintage: NV
Wine: Ruidoso Red
Appellation: New Mexico
Grapes: Zinfandel, Tempranillo / Valdepenas, Muscat of Alexandria
Price: 750ml $10.00



Eleanor & Ray Heald

The Healds have been writing about wine since 1978 and have focused on appellation significance in many of their world beat writings. They value recognizing site personality (terroir) within an appellation's wines. They praise balance and elegance in wines styled to pair well with food and eschew over-extraction, high alcohol and heavy-handed oak. "Delicious" is their favorite descriptor for a great, well-made wine.