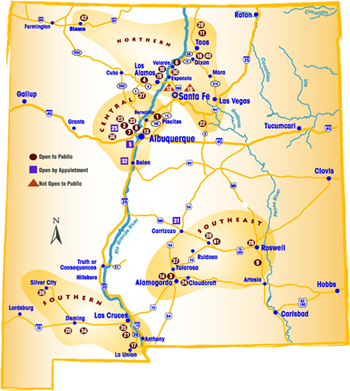 New Mexico (State Appellation)
Bringing the people to the wine:
How New Mexico connects wines, tourism and its unique cuisine
Quick question: What's the oldest commercial wine producing region in the U.S.?
Did you say California? Sorry. It's New Mexico, predating California's efforts by 140 years!
by Eleanor & Ray Heald
March 4, 2008
---

lthough
New Mexico has four American Viticultural Areas (AVAs), the state's passionate growers and wineries reference their wine regions by trails – northern, central, southeast and southern. Yet, even information from the
New Mexico Winegrowers Association
states that: "Here in southern New Mexico is where the grape growing is done. There are more vineyards here than in any other part of the state. Many of the northern wineries source their grapes from these southern vineyards where the climate is more suited to grape growing."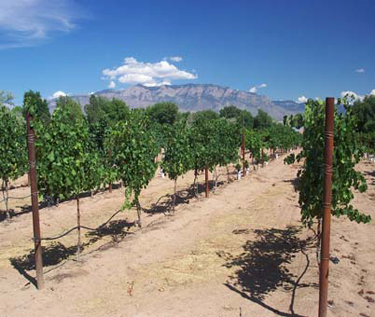 Not all grape growing is south, however. Just like everywhere else in the wine world, New Mexico has its corners where grape growing succeeds against all climatic and geographical odds. Mountainous New Mexico terrain and frigid high altitude temperatures have deterred many, but not all, attempts at wine grape growing.
The northern wine trail relates closely to the
Rio Grande Valley
AVA. There, in Dixon, in the Embudo Valley (about 25 miles south of Taos and 50 miles north of Santa Fe), the small family-run
La Chiripada Winery
has had success with a five-acre vineyard of resistant, cold-hardy varieties and
Riesling
. Six acres of contract grapes from their neighbors, Orlina and Jasper Tucker, round out about half of the needed grapes. The remainder are sourced from vineyards in the Membres Valley, (popularly referenced as the Deming area), in the southern part of the state.
Los Luceros Winery
near Espanola has also had good luck with growing cold hardy varieties such as Seyval Blanc, Vidal Blanc, Cayuga and Baco Noir.
Madison Vineyards & Winery
in Ribera has had similar success.
Tourism Advances Sparklers
Wineries in and around Albuquerque have taken advantage of tourism in one of the most culturally diverse U.S. cities. Of these,
Gruet Winery
is the most heralded, with a story dating to the early 1980s when Gilbert Gruet, of the Champagne House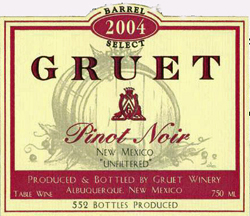 Gruet et Fils, decided to plant an experimental vineyard, exclusively dedicated to
Pinot Noir
and
Chardonnay
, at an elevation of 4,300 feet on sandy and loamy soil.
Even though daytime temperatures during the growing season are hot, the diurnal range can be as much as 30 degrees F, which cools grapes during the night and helps to retain their acidity. Low humidity also allows Gruet to grow grapes without using pesticides.
Since 1989 when Gruet launched its first 400 cases of sparkling wine made by the Champagne method, it has grown to more than 80,000 cases with distribution in 47 states. Dubbed "End of the Vine,"
Willmon Vineyards
, owned by winemaker Scott Willmon, has an attractive tasting room in Ruidoso where he showcases wines from his vineyards.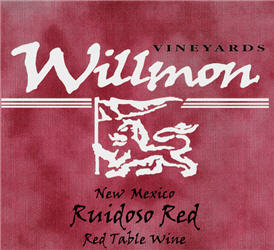 In Tularosa, 4,000 vines of
Tempranillo
and
Zinfandel
are grown organically. Near Deming, 27,000 vines of 20 different
vinifera
varieties are tightly-spaced at 8 feet x 3.5 feet.
"I love food and wine," Willmon remarked, "so to attract wine and food lovers, I opened "Willmon," a classic steak house in mid-town Ruidoso. Yet, we're not getting credit for what we're doing in New Mexico. Wines of New Mexico are showing well in major competitions with West Coast wines but the wine media are failing to recognize this."
Eagle Ranch in Alamogordo, owned by Marianne and George Schweers, produces Heart of the Desert wines. Its marketing draw, however, is the pistachio ranch. 'Bring 'em in for

pistachios and have 'em walk out with some wine too,' appears to be the motto. It appears to be working - we discovered as many people tasting samples of pistachios as tasting wine. They appeared to enjoy the mellow Cabernet Sauvignon as much as we did.
Stepping into the
Tularosa Vineyards
tasting room in Tularosa is like visiting in the Wickham family home's front room. Dave Wickham and his winemaker son Chris tend a 10-acre vineyard on the tasting room site. Another 14-acre vineyard parcel is in the La Luz area and additional grapes are farmed on the owner's home ranch or purchased from growers in the Deming area. The top selling wine is a semi-sweet
Gewurztraminer
but we'd opt for a delicate rendition of
Symphony
(with 15% Malvasia), a superior match for spicy Asian or spicy Mexican dishes.
When asked why a number of available wines were not vintage dated, Dave cited "economics of label printing costs." And what about the semi-sweet nature of many wines? "We make wines that our customers like," Chris answered. "We get many visitors from Texas and they prefer sweeter wines. They're not just talking dry and drinking sweet. They ask for sweet wines."
At
St. Clair Winery
& Bistro in Las Cruces (Mesilla Valley AVA), family winemaker Florent Lescombes said, "we directly associate wine with food. Our tasting bar is part of a bistro-style restaurant where diners can match one of our wines with a menu offering, often prepared using a specific wine which we indicate in the item description."
Sure enough, "Our family favorite onion soup is a treat graced with our Cab-Zin…" the menu reads. "Shrimp sautéed in Pinot Grigio," explains the Pasta del Faro. Garlic Chicken is "slow-cooked in our Chardonnay with 40 cloves of garlic," and Cabernet Braised Pot Roast explains itself.
St. Clair is New Mexico's largest winery, offering over 30 varietals bottled under the labels D.H. Lescombes, Blue Teal, San Felipe and St. Clair Winery. "Since we make several styles of the same varietal," said Lescombes, "it's easier for the consumer to understand which is the one they prefer, if we label them under a different brand."
Another St. Clair Winery & Bistro