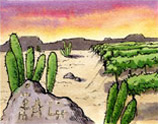 Dry as dust is a phrase one might use to describe the Mimbres Valley appellation in southwestern New Mexico. Very much a desert, the entire AVA only receives nine inches of rain per year, with typically hot days and cool nights. Covering upwards of 636,000 acres, the AVA has about 2,000 acres under vine. Drip irrigation is essential for the survival of these vineyards. Yet these vineyards, at elevations of 4,000-6,000 feet above sea level, have one major advantage...they are near the once large Mimbres River, where the soils are very deep, silty, clay-loam and quite porous, with good drainage – ideal for viticulture. Today, the river is merely a stream and dry for most of the year. The area's winegrowing history reaches back more than a century, and it's expected that the industry will expand rapidly in coming years.

Whitehall Lane Winery, A 20 Year Story of Vineyards
By
Roger King
July 15, 2013
From initial vineyard plantings on Whitehall Lane in the 1800's the evolution to today's Whitehall Lane Winery has been a story of vineyard. The first 25 acre vineyard property is the winery site, yet the definition of multiple Napa Valley sub appellations is formed in a wide ranging set of vineyards all showing unique profile and character in their wines.  [>] continue

Embracing Virginia's Terroir
By
Richard Leahy
June 2, 2013

Shake Ridge Ranch - Gem of the Sierra
By
Roger King
May 16, 2013

Tannat, Vibrant Across the America's
By
Barbara Trigg
May 6, 2013

Welcome Middleburg Virginia AVA
By
Roger King
January 4, 2013

Humboldt County: Is Too Much Terroir Possible?
By
Clark Smith
October 14, 2012

Historic Buena Vista Winery Restored
By
Barbara Trigg
September 18, 2012

Three Days in Humboldt County and Willow Creek
By
Barbara Trigg
August 22, 2012