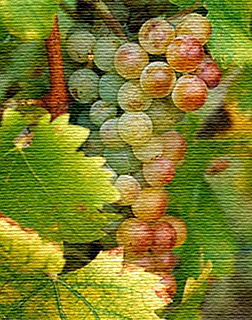 Confessions of an IMU: A Call to Arms
Why has one of the most versatile grapes in the world been so frowned upon? Unjustified snobbishness for one.

But that prejudice is about to change if the IMUs have anything to say about it.
by Roger Dial
October 11, 2007
---
D
on't ask me why I am confessing now. It's not that I've changed my views after all these years. I am as committed now as I was when I joined forty-odd years ago. Nor am I unaware of the danger of going public – of coming out of the cellar, so to speak. The enemy – the SAMs – are stronger than ever and this confession might well be my oenological obituary. But one can't go on forever leading this double life – a SAM by day; an IMU by night.
I became an IMU during my early college days at Berkeley. Back then the campus was a cauldron of radical ideas and illicit pursuits. I was younger then. My palate may have been unsophisticated. The elders had not yet schooled me to the modern order of viticultural stratification. Before they could properly socialize me, I fell in with bad company – Bohemians, anarchists, poets, and the like! Boyishly, I rejected the trinity of the establishment: state capitalism, militarism and Bordeauxism.
Perhaps I was naïve. Some would say that I was simply too romantic; with age and maturity I would outgrow such infatuations of youth. It is certain that many of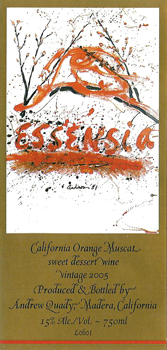 my cohorts of those days have gone over to the enemy, becoming out and out SAMs. It seems like only yesterday when we met in the musty back rooms of used book emporiums, plotting anti-establishmentarian gestures whilst passing around a jug of Moscato. So many of those same people are to be found these days in country club locker rooms, enjoying the fruits of Lockheed and Lytton Industry dividends and sipping Screaming Eagle, and the like. SAMs to the core! Definitely card caring "SNOBS AGAINST MUSCAT"!
The SAMs are safe in their numbers and assured in their status; they need never fear that the dreaded epithet – WINO – will be hurled at them. Meanwhile, we dedicated guerilla fighters in the "
INTERNATIONAL MUSCAT UNDERGROUND
" must always keep on hand a supply of brown paper bags, and hold our seminars in culverts.
At the risk of immediate social ostracism, we IMUs must quietly disseminate the truth about
Muscat
; meanwhile continuing to fight the vicious "muscatel myths" propagated by the SAMs. We must tell people that Muscat has the longest history of any grape variety, and that it is at least arguable that Muscat is the mother of all the noble cépages so revered by the SAMs. Muscat was the most cherished fruit of Middle Eastern empires a thousand years before Christ. It was the treasure of the Phoenicians who trafficked it throughout the Mediterranean coast of Europe and Africa; just as many Greek and Roman soldiers, in their times, carried sprigs of Muscat to the savage hinterlands of Europe to remind them of the sweetness of home. No other grape variety has traveled so far and been disseminated so broadly as Muscat.
Muscat is definitely a lady; sometimes a goddess, a mistress, a mother, a blush-coloured beauty. The name Muscat, itself, comes from the essential constituent of perfume; and Muscat is nothing if not perfumy. It is the quintessential aromatic wine, sensuous, concentrated, and grapy in bouquet and flavour. Muscats carry the scents of roses, melons, pears and - more than any other wine - they smell of the grape from which they come. Whether fermented to dryness or stop
A wonderfully fragrant selection of Muscats is now available
Direct From The Wineries.
Whether your preference is
Blanc
,
Black
, or
Orange
, you'll find it in
APPELLATION AMERICA'S
online store.
fermented to dessert sweetness, Muscats evoke an expectation of lusciousness. In what has been called the "sugarless Middle Ages", a Muscat wine was revered as an exotic flight into fantasy. Heroic Knights went to the Crusades armed with ample quantities of Muscat; their ladies sipped Muscat whilst they waited the return of their heroes.
No one knows the identity of the Mother of Muscats, but now there are countless varietal offspring in production, multipled by hundreds of national aliases. There is Frontignan,
Alexandria
,
Canelli
, and
Hamburg
. Add on
Ottonel
,
New York
and Lexia to name a few. Muscat varieties cover the color spectrum, with Muscat Blanc, Orange Muscat, Black Muscat and Brown Muscat. Undoubtedly Muscat is the most versatile grape in the world, making distinctive table wines, bubblies, aperitifs, digestifs as well as raisins and table fruit.
Coming Out…of the Cellar
Now that I am out of the cellar, I invite you, my readers, to also stand up for Muscat! Don't wait another day to proclaim your right to worship the Muscat of your choice, be it New World or Old World; ancient stock or modern hybrid. Join IMU now!
All that is required to become a member of the
INTERNATIONAL MUSCAT UNDERGROUND
is that you declare your devotion in the comments box of this article. Tell us about your favorite Muscats.