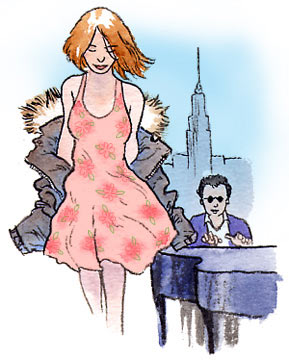 Muscat Ottonel
You have been labeled as the least amiable of the gregarious Muscat clan. It's no wonder your appearance and character has been subdued -- you have been toiling in the frigid fields of Eastern Europe. Given your energetic performances on the New York stage, your less than cheery character has obviously been a function of place.


But you know what you're needing,
and you don't want to waste more time.
You're in a New York state of mind.
Appellations Growing Muscat Ottonel Grapes
Appellations producing the most Muscat Ottonel wines:
Muscat Ottonel Grape Details
Muscat Ottonel

Muscat Ottonel is perhaps the least valued of the Muscat family of highly aromatic varieties. Its wine is typically faintly colored, and its aroma is notably lighter than the potent grapey essences of the superior Muscat Blanc à Petits Grains and Muscat of Alexandria. Believed to be a cross of Chasselas with a Muscat varietal grape, Muscat Ottonel is more cold-hardy than its relatives. This quality has allowed it to be widely grown in cooler areas of central and Eastern Europe, where it is best used as a late harvest white wine. There are major plantings in Austria, and in France's Alsace area, where it has become the most grown Muscat. The variety has also established itself in Canadian vineyards in Ontario and British Columbia. And in the US, New York State's Finger Lakes region is showing promising results in tests with a clone of Muscat Ottonel.

America
Confessions of an IMU: A Call to Arms
By
Roger Dial