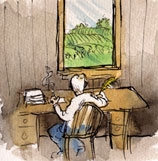 Maryland has been at the forefront of American viticultural research since the mid-1600s when Lord Baltimore ordered vines to be planted. Since then, viticulturists have explored almost every vine type, from native American species to wild and man-made hybrids, not to mention numerous attempts at classic European varieties. In modern times it was the indomitable Philip Wagner who blazed a trail with diverse experimental plantings of hybrids. Wagner would eventually open Boordy Vineyards, Maryland's first winery, in 1945. He would also write Grapes Into Wine, the best selling book on winemaking in America.

Today, the state's wine production totals almost 100,000 cases annually, derived from 450 acres of vines and more than 30 farm wineries. Activity is concentrated in eastern Maryland on coastal lands surrounding Chesapeake Bay and on the Piedmont Plateau, north and west of Baltimore. A wide range of climactic zones are found, including everything from very cold to quite hot areas.

In the early days of AVA designation, Maryland responded quickly with three appellations (Linganore, Cumberland Valley and Catoctin) recognized before the end of the 1980s. Of these designations, only Linganore enjoys much currency today, and most wineries prefer to use the Maryland (state) appellation to identify the origin of their wines.

Bi-State Upper Hiwassee Highlands an AVA
By
Roger King
August 6, 2014
In the southern Blue Ridge Mountains of North Carolina and Georgia vineyards are small and few, yet the establishment of the Upper Hiwassee Highlands could bring much more.  [>] continue
Maryland Wine & Grape Advisory Committee Report Released
By
Kevin Atticks
February 18, 2005
Remedy for the Winter Doldrums
By
Kevin Atticks
February 17, 2005
[>] see all Maryland features (2)

Remote Manton Valley New California AVA
By
Roger King
July 31, 2014

WAWGG Banquet Explores Washington State Terrior
By
Roger King
February 2, 2014

Taking Focus on Appellation
By
Clark Smith
December 9, 2013

Whitehall Lane Winery, A 20 Year Story of Vineyards
By
Roger King
July 15, 2013

Embracing Virginia's Terroir
By
Richard Leahy
June 2, 2013