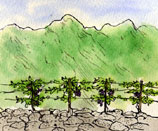 The name "Catoctin" comes from the Algonquin Indian word for "speckled rock", a geologic feature which is abundant throughout this viticultural zone in the mountainous western part of Maryland. Of the 170,000 acres that comprise the appellation – which overlaps parts of Frederick and Washington counties -- just a small portion is planted to grapes. Small vineyards are scattered across the viticultural area, which is bordered by the Pennsylvania-Maryland state line in the north, the Potomac River in the south, Catoctin Mountain to the east, and South Mountain to the west. The region is fairly warm, with an average annual rainfall of 36-42 inches, slightly less than surrounding areas outside the AVA's boundaries. Two decades after its approval as an AVA, and with just a single winery calling it home, Catoctin's name recognition is so limited that even the wines from within the region are marketed under the 'Maryland' state appellation rather than the AVA name.

WAWGG Banquet Explores Washington State Terrior
By
Roger King
February 2, 2014
The multiple appellations of Washington will be tasted in a unique banquet dinner at this years Washington Association of Wine Grape Growers Annual Meeting and Trade Show. Nuances of that regional diversity have been paired with the meal being prepared by Chef Dan Carr.  [>] continue

Taking Focus on Appellation
By
Clark Smith
December 9, 2013

Whitehall Lane Winery, A 20 Year Story of Vineyards
By
Roger King
July 15, 2013

Embracing Virginia's Terroir
By
Richard Leahy
June 2, 2013

Shake Ridge Ranch - Gem of the Sierra
By
Roger King
May 16, 2013

Tannat, Vibrant Across the America's
By
Barbara Trigg
May 6, 2013

Welcome Middleburg Virginia AVA
By
Roger King
January 4, 2013

Humboldt County: Is Too Much Terroir Possible?
By
Clark Smith
October 14, 2012