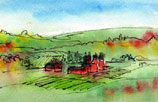 While the Cumberland Valley AVA encompasses 765,000 acres of land, only 100 are used for grape production. It was given appellation designation way back in August 1985, perhaps before the state's wine industry was ready for it. While some research had been done on the area, and while it is a "distinct region", it was later determined that the entirety of this very large appellation was not ideal for viticulture. The majority of the vineyard land is concentrated on the high terraces of the Potomac River and on the slopes of South Mountain. The valley runs 80 miles, from the Susquehanna River in Harrisburg, Pennsylvania, to the Potomac River in Washington, D.C. and Maryland. The landscape is a series of low-lying hills and ridges formed by erosion. The river basins are part of the much larger limestone bed referred to as the Great Valley, which contributes to the fertile, well-drained, high-alkaline soils that are found in this appellation.

WAWGG Banquet Explores Washington State Terrior
By
Roger King
February 2, 2014
The multiple appellations of Washington will be tasted in a unique banquet dinner at this years Washington Association of Wine Grape Growers Annual Meeting and Trade Show. Nuances of that regional diversity have been paired with the meal being prepared by Chef Dan Carr.  [>] continue

Taking Focus on Appellation
By
Clark Smith
December 9, 2013

Whitehall Lane Winery, A 20 Year Story of Vineyards
By
Roger King
July 15, 2013

Embracing Virginia's Terroir
By
Richard Leahy
June 2, 2013

Shake Ridge Ranch - Gem of the Sierra
By
Roger King
May 16, 2013

Tannat, Vibrant Across the America's
By
Barbara Trigg
May 6, 2013

Welcome Middleburg Virginia AVA
By
Roger King
January 4, 2013

Humboldt County: Is Too Much Terroir Possible?
By
Clark Smith
October 14, 2012