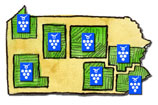 Pennsylvania has an ideal climate for a mid-Atlantic state to become a major player in the North American wine world. It enjoys mild winters, due to its proximity to Lake Erie in the west and the Atlantic's Gulf Stream waters in the east. The growing season here is long and moderate, sparing growers the problems associated with spiking temperatures. Irrigation is not a concern, as the state receives enough natural precipitation to nurture vines. In southeastern Pennsylvania, the landscape is marked by rolling hills which provide great air drainage and desirable southern exposures. More than 110 wineries, most of which are family-run operations, are spread across all areas of the state. Indeed, just about every part of Pennsylvania has its own wine trail. Collectively, these small family producers make Pennsylvania the nation's eighth largest producer of wine.

Bi-State Upper Hiwassee Highlands an AVA
By
Roger King
August 6, 2014
In the southern Blue Ridge Mountains of North Carolina and Georgia vineyards are small and few, yet the establishment of the Upper Hiwassee Highlands could bring much more.  [>] continue

Ring Around the Rosés:
Blush Wines are Coloring
Eastern Wine Production
By
David Falchek
March 20, 2008

Pennsylvania's Quality Assurance Program Will Lure Consumers to Local Wines
By
David Falchek
March 6, 2008
Is Cabernet Franc the Cinderella
of the Vineyard?
By
David Falchek
October 3, 2007
[>] see all Pennsylvania features (4)

Remote Manton Valley New California AVA
By
Roger King
July 31, 2014

WAWGG Banquet Explores Washington State Terrior
By
Roger King
February 2, 2014

Taking Focus on Appellation
By
Clark Smith
December 9, 2013

Whitehall Lane Winery, A 20 Year Story of Vineyards
By
Roger King
July 15, 2013