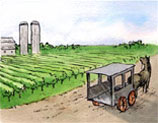 Only in recent years has Lancaster Valley returned to the wine scene, after a 100-year sabbatical. The first vineyards were planted here in 1790, and flourished well into the mid-1800s. Plagued by disease and some unusually cold winters, the industry was wiped out and vine growing did not resume until the 1960s. Located in southeastern Pennsylvania, the Lancaster Valley is over 30 miles long and 12 miles wide, encompassing over 225,000 acres, 400 of which are under vine. Home to less than 10 wineries, this appellation is featured in many of the state's winery trails. More accurately described as the "Lancaster Depression", the boundaries of this appellation are defined by its highly-elevated surroundings. Similar to other valleys in the state, the Lancanster Depression rests on an easily-eroding, very well drained and deep limestone bed. Lancaster Valley is rich and fertile, making it the wealthiest agricultural community in the entire state. While grapes are not the premier crop, the fruit is rich and ripe, resulting in juicy Cabernets, Chardonnays and Rieslings.

WAWGG Banquet Explores Washington State Terrior
By
Roger King
February 2, 2014
The multiple appellations of Washington will be tasted in a unique banquet dinner at this years Washington Association of Wine Grape Growers Annual Meeting and Trade Show. Nuances of that regional diversity have been paired with the meal being prepared by Chef Dan Carr.  [>] continue

Taking Focus on Appellation
By
Clark Smith
December 9, 2013

Whitehall Lane Winery, A 20 Year Story of Vineyards
By
Roger King
July 15, 2013

Embracing Virginia's Terroir
By
Richard Leahy
June 2, 2013

Shake Ridge Ranch - Gem of the Sierra
By
Roger King
May 16, 2013

Tannat, Vibrant Across the America's
By
Barbara Trigg
May 6, 2013

Welcome Middleburg Virginia AVA
By
Roger King
January 4, 2013

Humboldt County: Is Too Much Terroir Possible?
By
Clark Smith
October 14, 2012