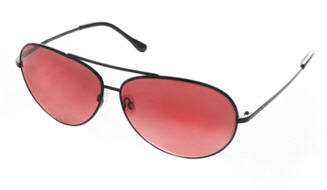 Pennsylvania (State Appellation)
Ring Around the Rosés:
Blush Wines are Coloring
Eastern Wine Production
From the sweet to the savory, rosé is rising in production in eastern wineries. Some see it as an option for less ripe or pristine fruit. Others see it as an opportunity to introduce consumers to lesser known varietals.
by David Falchek
March 20, 2008
---

eastern wineries
are looking at their vines and wines through rosé colored glasses. While the boom in dry rosé sales is noticeable in other markets, it's only just beginning in the East with many wineries expanding their range of pink wines beyond the sweet blushy blends they peddle to white Zin drinkers. In fact, eastern dry rosés - delicate, elegant and suitable to a range of cuisines - are emerging from the long pink shadow of tinted
Catawba
and challenging the association between pink and sweet.
They make rosés because they have the materials, collecting free run or lightly pressed juice from musts intended for extracted table wines. Known as bleeding, or the French term, saignée, the process concentrates the remaining must by increasing the ratio of skins to juice and yielding more deeply colored, extracted wine. That free run and press fraction often ends up as a distinct rosé or blush.
Wineries have also found that rosé production could be an option for less ripe, less pristine fruit. Rosé production with its low temperature fermentation and minimal skin contact does not accentuate the problems of compromised fruit as much as maceration and barrel aging does. Rosés have provided an outlet for declassified fruit, sometimes with surprisingly successful results.
Good wine from unripe grapes?
It's a cellar secret: fruit not good enough to make it into big reds or barrels gets a second chance at life as a fun rosé.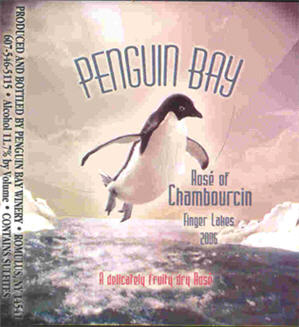 David Peterson, co-owner of a trio of
Finger Lakes
wineries –
Swedish Hill
,
Goose Watch
and
Penguin Bay
- wasn't sure what to do with a block of unripe
Chambourcin
in 2006. He crossed his fingers and decided it would be Penguin Bay's first dry rosé.
The season, vineyard, and variety provided a perfect storm of acidity, about 13 g/L. They separated the hard press juice, high in unripe phenolics, and gelatin fined it before adding it back. They did a calcium carbonate double salt treatment on the juice to bring total acids down below ten. The juice was chilled, settled, racked, then fermented.
Then the wine was bentonite fined, centrifuged (typically used for early stage clarification), then filtered. They added some of the grape variety Vincent for color, and 8 percent
Riesling
to lift the aromatics. The finished Rosé of Chambourcin went on to capture a silver at the New York Wine & Food Classic and double gold at the New York State Fair, overwhelming Peterson as he reflects on the painful birth. "We didn't know what this Chambourcin would do at that level," he said. "If we tried to do this with Cabernet Franc, it would have been a disaster because it would have been herbaceous and without fruit."
Winemaker Roman Roth's first vintage on
Long Island
at
Wölffer Estate
in Sagaponack was the disastrous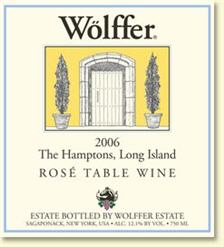 1992 with its 13 rainy weekends. "I did not feel much like making red wines," he said, so he made a dry rosé that has become an integral part of Wölffer's line-up.
Based in the tony Hamptons vacation spot, Wölffer had intended to make a rosé all along. He produced more rosé that year to spare him from making as much mediocre red wine. Since then, rosé production has been deliberate, with dedicated fruit rather than seconds and bleeding. Yields destined for rosé run about 50 percent greater, running from to 3.5 to 4 tons per acre. The greater yields slow ripening and preserve acidity, according to Roth. "Shriveling and dehydration may be good for red wine, but not for rosés," he said. In the last two years, Roth said rosé sales exploded, selling out within months of release.
When
Chateau Lafayette Reneau
in the Finger Lakes began making
Pinot Noir
Blanc 15 year ago, it was from fruit that wasn't good enough for the Pinot program. The vines are younger and yields are greater, about 5 tons per acre. The grapes are harvested at 19 to 20 degrees Brix, less than most grapes, winemaker Tim Miller said, since Pinot Noir acids fall at greater ripeness.
At the crush pad, Miller takes the first 145 gallons of free run and light press juice per ton for rosé. The heavy press goes into other blends. After fermentation, the free run is white, but 8 percent Baco Noir pinkens it. The wine retails at $10. Miller also makes a sweeter blush, but likes Pinot's delicate flavors for rosés.
Sugar still sells
Producers who survive on tasting room sales have found their rosés need a bit of sweetness to sell. Brad Knapp, owner-winemaker of
Pinnacle Ridge Winery
in Kutztown, Pa., made a rosé of Pinot Noir in 1998 from the first press but found it difficult to sell. "Dry wine drinkers wouldn't touch it, and white Zin drinkers didn't like it," Knapp said.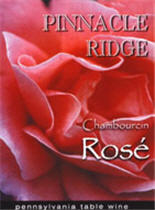 He moved sweeter. For the last several years, he has made a rosé of Chambourcin with about 2 percent residual sugar. Chambourcin is a favorite French-American hybrid in the East and has a history as a rosé grape in France's Loire Valley. With a nice berry character and dark pigments like Syrah, Chambourcin is right for rosé.
Extension agents view the rosé-as-plan-B phenomenon as a medical doctor might assess folk remedies. They view rosé production as neither a panacea for unripe or diseased grapes nor an excuse to overcrop. "I see the attraction of rosés," said Mark Chien, viticulture extension agent for Penn State University. "With the exception of France, rosés have been a fallback for the world's wine regions and that has been reflected in the quality. As consumers demand higher quality rosés, I hope we will see more wineries developing rosé programs with dedicated production." Bruce Zoecklein, head of the enology-grape chemistry group at Virginia Tech, said some have made rosés under duress, but he calls them at best credible. "Dry rosés of high quality certainly cannot be made without optimum quality fruit."
Perhaps rosé colored glasses make things look a bit too rosey.