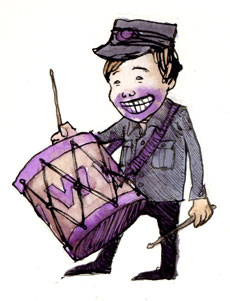 Concord
You are a staple of the American diet, a part of growing up, like peanut butter and jam. You are a patriot of Americana, present at every bar mitzvah and Hanukkah celebration, from Florida to Fairbanks. There is no mistaking you in a crowd. One just needs to meet you once to remember your character forever. So what's wrong with being foxy? After all, you are the sweet jelly of our youth!

Appellations Growing Concord Grapes
Appellations producing the most Concord wines:
Concord

Introduced to the northeastern United States by Ephraim Bull around 1850, Concord is a historically-important and very hardy Native American Vitus labrusca cultivar. In 1869, Dr. Thomas Welch used the grape to process fresh grape juice. Welch's bottled grape juice industry continues to thrive to this day. Currently, Concord is responsible for over half a million tons of grapes, produced in Washington State, the eastern states and Ontario. Much of Concord's production is destined for juice, jelly or for table grapes. However, a significant amount is used to make sweet-finished wine – much of which is made kosher. It typically ripens by mid-late October. Like its popular offspring Niagara, it produces small vines and low crops, unless grafted onto a good growth rootstock and planted in soils of optimum fertility.

Ozark Highlands
A Wine Rite-of-Passage
in the Ozark Highlands
By
Tim Pingelton

Missouri
Spring Freeze Leads to Summer Squeeze
By
Joe Pollack