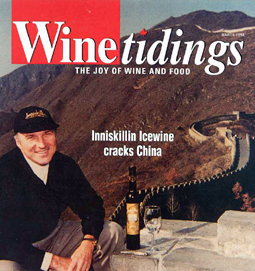 Ontario (Provincial Appellation)
Kings of the "Ice":
Donald Ziraldo and Karl Kaiser
by Tony Aspler
December 26, 2007
---
T
he cover of
Wine Tidings
magazine (March 1998) shows a smiling Donald Ziraldo in an Inniskillin baseball cap, sitting on the Great Wall of China. He's holding a bottle of
Vidal
Icewine. This photo, more than any other shot of the peripatetic wine producer, speaks volumes as to who he is, his flamboyant style, and what he has done for the Canadian wine industry.
But that cover shot tells only half the story. While Ziraldo was trotting around the globe for a quarter of a century beating the drum for Inniskillin, his associate and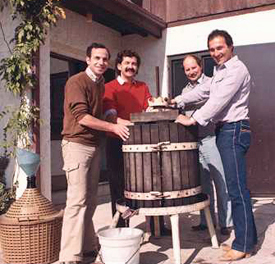 Inniskillin co-founder Karl Kaiser stayed home amongst his barrels and test tubes, avoiding journalists and winemaker dinners in order to concentrate on producing the wine that would make Inniskillin world famous.
There could not have been a more 'odd couple' in the history of Canadian wine. Ziraldo – the quintessential salesman, lover of sports cars, extreme skiing extrovert, with the Italian blood of Friuli racing in his veins, and Austrian Karl Kaiser, patient, professorial, a priest manqué, totally dedicated to the cellar and the lab.
Perhaps the most succinct description of this introspective winemaker comes from
John Schreiner
, as quoted in the new edition of 'Icewine,' the book Ziraldo and Kaiser wrote together: 'Born in Austria in 1941,' writes Schreiner, 'Kaiser intended to be a teacher. He experienced vineyard work while in the novitiate of a Cistercian monastery there, and later, while helping in the vineyard owned by the grandfather of his future wife. He immigrated to Canada in 1969, planning to teach science after earning a chemistry degree and doing post-graduate work in microbiology. It was a choice of studies that equipped him well when his career switched to winemaking.'
A Wine Created Out of Dissatisfaction
The genesis of Inniskillin is worth telling here since, like all revolutions, it was generated by dissatisfaction. In the late 1960s and early '70s, the Canadian wine industry was based on
labrusca
varieties such as
Concord
and Niagara,as well as some of the hardier French- American hybrids. The wines, to the palate of an Austrian immigrant who had worked in vineyards, were undrinkable. At this time, Donald Ziraldo, fresh out of agricultural college, was growing hybrids in the family nursery two kilometers east of the present site of Innisikllin. He was propagating them for the large wineries of the day - Andres, Brights and Château-Gai.
The varieties they wanted were Seibel 9549 (that would later be named to honour Bright's legendary winemaker, Adhemar de Chaunac), Seibel 10878 (Chelois) and, Seibel 9110 (Vedelet). Karl Kaiser came to the nursery to buy some De Chaunac grape vines and he brought some wine he had made for Ziraldo to try. The two men became friends. Over dinner one night, they decided to open their own winery. 'We were at dinner at the Schnitzel Tavern in Fonthill,' recalls Ziraldo. 'We ordered a bottle of Château-Gai Sauterne made from Niagara grapes. It was so disgusting and I thought there's got to be something better than this.'
In 1974, Inniskillin was granted the first winery license in Canada since prohibition ended in 1927. Their inaugural wines were made in a packing shed –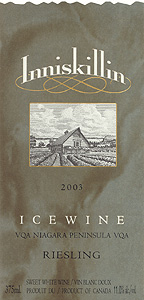 500 bottles of
De Chaunac
, 500 bottles of Marechal Foch and 5000 bottles of a blend of the two which they called Vin Nouveau. 'We called it Vin Nouveau,' says Ziraldo, 'because the experts said that hybrids don't age and this will give people the impression, like Beaujolais Nouveau, to drink it young. I tasted a bottle of our 1986
Marechal Foch
recently and it was amazing.'
But just before they were ready to release the wines, Paul Bosc, then winemaker at Château-Gai, beat them to market with a TV ad that rightly claimed to offer Ontario's first varietal hybrid wine, a Marechal Foch. Ziraldo and Kaiser were despondent. They thought they would go bankrupt. But the halo effect of Château-Gai's expensive TV ad helped Inniskillin to sell out all of their wine at prices almost double what consumers would normally pay for domestic wine.
While the consuming public was happy to buy Inniskillin wines, the fine dining restaurants of Toronto were not. Ziraldo remembers being shown the door by Johnny Arena at Winston's and lectured for two hours by Charles Grieco at La Scala. But Ziraldo's persistence in knocking on doors eventually paid off. Frank Feigo at The Three Small Rooms in the Windsor Arms put Inniskillin wines on his list.
Karl Kaiser understood that if
Ontario
was to have a future as a wine-growing region, it had to be with the noble European varieties. Given the terroir and microclimate of the company vineyard and those around the
Niagara Lakeshore
from which he purchased grapes, he soon decided that
Chardonnay
and
Pinot Noir
were the varieties that would work best. But it was his decision to try to make Icewine that would change the course of the Canadian wine industry for ever.
In the summer of 1983, Kaiser, his German neighbour Ewald Reif, and the Austrian winemakers at Hillebrand and Pelee Island Winery in Southwest Ontario decided to leave some vines unpicked to see if they could make Icewine. 'We left thirteen rows in front of the driveway,' remembers Ziraldo. 'I got tired explaining to people what we were doing. In fact, I didn't know what we were doing.' While Hillebrand and Pelee Island managed to salvage a miniscule harvest after the birds had had their way with the frozen grapes, Inniskillin and Reif had their vines completely denuded.
Fast forward to Vinexpo 1991. Inniskillin Vidal Icewine 1989 wins the Grand Prix d'Honneur and the world begins to beat a path to Canada for this new category of wine. Today, Innikillin Icewine is the Number One selling wine in Duty Free Stores around the world. Inniskillin Icewine is sold in 42 countries.
'I don't know why I decided to go outside the country,' says Ziraldo. 'I tried it with our Chardonnay in the US and that was a dismal failure. With the Icewine, I went out again. It's always about trying to create a category. Wherever I went I saw (the wines of) Italy, France, Germany, California. Selling just a brand wasn't going to make it. There was nowhere to put it. You couldn't put Icewine into any category. So I had this idea that I was trying to promote Canada. Like VQA, it wasn't about just selling our brand but doing something for the region or the country that would help us build a bigger pie. If I have the biggest piece and I make