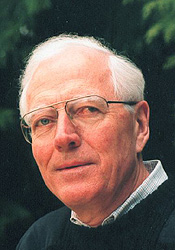 John Schreiner's wine interest was fired by his first visit to the Napa Valley in 1975. Soon he began writing about wine in The Financial Post and in many other publications. He is the author of nine books on wine, beginning with The World of Canadian Wine, published in 1984. More recent writings have focused on the wines of British Columbia and on Icewine.

In 2002, the Okanagan Wine Festivals Society presented Schreiner with its Founders Award, presented annually since 1984 to recognize service to the British Columbia wine industry.

Born in 1936 at Indian Head, Sask., John grew up on a wheat farm. After graduating in arts from the University of Saskatchewan, he joined the Regina Leader-Post as a reporter and subsequently became the newspaper's chief political reporter in the Saskatchewan Legislature. In 1961 Schreiner joined the staff of The Financial Post in Toronto. He served in the paper's Montreal bureau from 1967 to 1969 and in 1973 became that newspaper's bureau chief in Vancouver. Since retiring in February 2001, Our Man in British Columbia has informed and entertained wine enthusiasts with a book-a-year, in addition to his other freelance writings.
John Schreiner can also be found on the web at www.planitvancouver.com.
John Schreiner can be reached by email at j.schreiner@appellationamerica.com.
1.  John Schreiner, THE WORLD OF CANADIAN WINE ( Douglas & McIntyre: 1984 )

2.  John Schreiner, THE WINERIES OF BRITISH COLUMBIA ( Orca Book Publishers: 1994 )

3.  John Schreiner, BRITISH COLUMBIA WINE COMPANION ( Orca Book Publishers : 1996 )

4.  John Schreiner, CHARDONNAY AND FRIENDS ( Orca Book Publishers: 1998 )

5.  John Schreiner, ICEWINE: THE COMPLETE STORY ( Warwick Publishers: 2001 )

6.  John Schreiner, BRITISH COLUMBIA WINE COUNTRY ( Whitecap Books: 2003 )

7.  John Schreiner, A WINE JOURNAL: CEDARCREEK ESTATE WINERY ( CedarCreek Estate Winery: 2003 )

8.  John Schreiner, THE WINERIES OF BRITISH COLUMBIA, 2ND ED. ( Whitecap Books: 2004 )

9.  John Schreiner, ICEWINE: THE WINE OF WINTER ( International Wine & Food Society: 2004 )

10.  John Schreiner, "The Church Lady: a profile of Blasted Church's Evelyn Campbell" ( CGA Magazine: January-February 2005 )

11.  John Schreiner, "Interview with Tom DiBello" ( Appellation America: February 20, 2005 )

12.  John Schreiner, THE WINES OF CANADA ( Mitchell Beazley: 2005 )