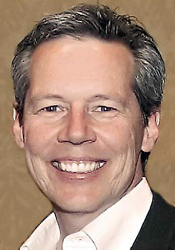 Gino L. Filippi was merely 4 years old the first time he picked grapes forty-some years ago in the family's vineyards. Growing up among the vines and wines in the Cucamonga-Guasti district has provided the 4th generation vintner a unique blend of grapegrowing, winemaking and wine marketing experience.

In 1995, the U.S. Dept. of Treasury approved "Cucamonga Valley" as an official American Viticultural Area. This was the result of a petition written and filed by Gino. He is co-owner of J Filippi Winery, and developed a relationship in 2001 with Enologist Marc LURTON of the LURTON wine family of Bordeaux. They created Deux Mondes "Two Worlds" Reserve 2003, the first ultra-premium red blend grown and produced in the Cucamonga Valley.

Since 1996, his "Off the Vine" column has appeared in the Inland Valley Daily Bulletin newspaper of Ontario, California. He is wine writer for Inland Living Magazine inlandlivingmagazine.com. Gino's articles have highlighted a wide range of wine subjects, from Cucamonga-Guasti area vintners – past and present – to the famous chateaux of Bordeaux and beyond.

Gino also is involved with the Los Angeles International Wines & Spirits Competition, and is a Member of the Los Angeles County Fair Association Board.

He serves as business development consultant and travels to Bordeaux and other wine regions. Gino's passion and perseverance in promoting the wines and vines is to be commended. His ongoing efforts provide the community a significant remnant of its viticultural heritage. Please visit Ginoffvine.wordpress.com
Gino L. Filippi can also be found on the web at Ginoffvine.wordpress.com.
Gino L. Filippi can be reached by email at Ginoffvine@aol.com.
1.  Gino L. Filippi, "Top tastes picked from the vines of France" ( Inland Valley Daily Bulletin: May 17, 2006 )

2.  Gino L. Filippi, "Wine's roots run deep in Cucamonga" ( Inland Valley Daily Bulletin: August 18, 2004 )

3.  Gino L. Filippi, "Cucamonga Valley AVA" ( Wine Institute America: May 1995 )

4.  Gino L. Filippi, "John's side note on "Sideways" Merlot" ( Inland Valley Daily Bulletin: May 17, 2006 )

5.  Gino L. Filippi, "Checkin in with a pal..." ( Inland Valley Daily Bulletin: October 26, 2007 )

6.  Gino L. Filippi, "Harvest's close in Temecula..." ( Inland Valley Daily Bulletin: October 12, 2007 )

7.  Gino L. Filippi, "KJ's Highland Estates" ( Inland Valley Daily Bulletin: February 8, 2008 )

8.  Gino L. Filippi, "Making Your Own Vintage" ( Inland Living Magazine: May 2008 )

9.  Gino L. Filippi, "Sharing wine & baseball stories with Tommy Lasorda" ( Inland Valley Daily Bulletin: May 23, 2008 )

10.  Gino L. Filippi, "Winemaker judges gathering for LAIWC" ( Inland Valley Daily Bulletin: May 23, 2008 )

11.  Gino L. Filippi, "California Bruts - Add Sparkle to your life" ( Inland Living Magazine: March 8, 2008 )

12.  Gino L. Filippi, "Vintners vie for awards at L.A. Intl Wine Comp." ( Inland Valley Daily Bulletin: June 1, 2008 )

13.  Gino L. Filippi, "Australian Winemaker Daryl Groom shares his story" ( Inland Valley Daily Bulletin: June 13, 2008 )

14.  Gino L. Filippi, "Brand New Tastes" ( Inland Living Magazine: July 2008 )

15.  Gino L. Filippi, "Great Tasting Expectations Temecula" ( Inland Living Magazine: August 2008 )

16.  Gino L. Filippi, "Natural chemistry - Food & Wine Pairings" ( Inland Living Magzine: Sept 2008 )

17.  Gino L. Filippi, "Cucamonga Valley Wineries" ( Inland Valley Daily Bulletin: October 30th 2008 )

18. New! Gino L. Filippi, "A Zinfandel Odyssey by Rhoda Stewart" ( Inland Valley Daily Bulletin: Jan 2009 )

19. New! Gino L. Filippi, "Wine Movies" ( Inland Living Magazine: February March 2009 )

20. New! Gino L. Filippi, "Pros & Cons of Corks part I" ( Inland Valley Daily Bulletin: Feb 12, 2009 )