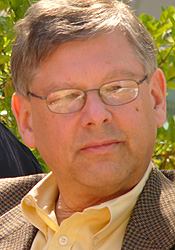 Harry Haff currently teaches at Le Cordon Bleu Atlanta as a chef instructor. Courses taught include: Wines and Beverages; Food/Beverage Cost Control; Culinary Skills 1 and Advanced; Baking and Pastry 1 and Advanced.

His career includes work as cook, sous chef, Executive Chef, Pastry chef, business owner twice, and wine writer for four local and one regional magazine.

He has traveled to wine regions in California, Oregon, Washington, New York State, New Mexico, Alsace, Switzerland, Chile, and Germany's Rhein and Moselle. He is currently completing the WSET Diploma Course, to be finished in January 2008.
Harry Haff can also be found on the web at www.winewithachef.com.
Harry Haff can be reached by email at winewithachef@mac.com.