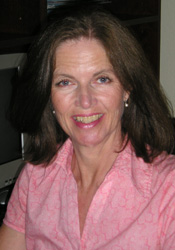 Anne Sampson has been writing about wines and Northwest wine country for 15 years. Formerly the managing editor of Omaha Magazine, she left her native Midwestern roots in 1989 and transplanted her career, along with her family, to eastern Washington, where the sun shines hot, the nights breathe cool, and the grapes grow dense. In that time, she's written for a wide variety of publications, including Wine Press Northwest, Wines & Vines, Northwest Palate, and Good Fruit Grower.
Anne Sampson can be reached by email at
asampson_25@hotmail.com
.
1.  Anne Sampson, "Going Solo: A New Generation of Winemakers Takes Off" ( Wines Northwest: May 2004 )

2.  Anne Sampson, "Matchmaking in the Vineyard" ( Northwest Palate Magazine: July/August 2006 )

3.  Anne Sampson, "The Wahluke Slope - A Grape Grower's Paradise" ( Good Fruit Grower: November 2005 )

4.  Anne Sampson, "Washington's Meritage Wines" ( Northwest Palate : January/February 2003 )

5.  Anne Sampson, "Red Mountain Heats Up" ( Good Fruit Grower: December 2005 )

6.  Anne Sampson, "Washington Wines On the Road" ( Wines & Vines: February 2006 )