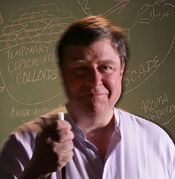 Winemaker Clark Smith dropped out of M.I.T. in 1971, and has been in the wine industry ever since. After spending the '70's retailing wine in the East Bay, he began his winemaking career as cellarmaster for VeederCrest in 1977. After graduating from U.C. Davis in 1983, Clark served as winemaker/partner for the R.H. Phillips Vineyard for its first seven years, taking it from 3,000 cases per year to 250,000. In 1990, he began Vinovation, which became the world's largest winemaking consulting company with over 1200 clients around the world. Clark developed a postmodern winemaking system called "GrapeCraft", which rejects the solution chemistry model of winemaking and instead centers around building structure, integrating aroma, and promoting living soils. "Wine is not science, it's cuisine – the ultimate slow food."

In 2008, Clark licensed out his wine production service business and became a full time columnist and Director of Best-of -Appellation Evaluations for Appellation America. His goal over the next three years is to make American wines competitive with the European system by moving beyond varietal judging to the characterization of the regional typicity of our 307 AVAs, thus connecting the consumer to the style diversity now available.

He still spends his free time dreaming up ways to improve his consulting clients' wines, rattling the cages of established wine industry icons and institutions, folksinging, and making his own line of eclectic brands including the Eurocentric WineSmith line, the fun & friendly PennyFarthing wines, and the groundbreaking CheapSkate brand. Clark also miraculously finds time to teach courses at University of California at Davis, Napa Valley College, Fresno State University, Southwest Missouri State University, Florida International University, and l'Academie du Vin in Tokyo, and to judge six Fairs.

GrapeCraft remains at the core of Clark's philosophy, to wit "the practical art of connecting the human soul to the soul of a place by rendering its grapes into liquid music." To read more of Clark's writings, visit his Blog, GrapeCrafter, The Wine Technology Blog.

[>] Feature articles by Clark Smith
Clark Smith can also be found on the web at www.grapecrafter.com.
Clark Smith can be reached by email at c.smith@appellationamerica.com.