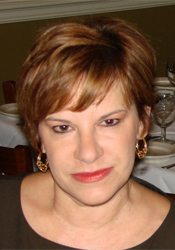 Jan Walsh is a freelance wine writer and columnist based in Birmingham, Alabama. Nationally, Jan contributes department, feature and cover story articles to Wine Spectator, The Wine Report, and Health. Jan is the Cheers columnist for Southern Breeze magazine. And she is Birmingham Alabama's wine columnist, writing the entire wine department for Birmingham magazine, where she writes two food columns and two restaurant reviews each month.

Jan holds certification by the Guild of Sommeliers for her knowledge of wine and spirits and makes appearances on local television offering advice on food and wine pairings.

Jan is also the owner and publisher of commercial web sites, BirminghamWine.com and BirminghamRestaurants.com. In addition to wine and food writing, she also has expertise in writing travel and profile articles and was the "Successes Writer" for Weight Watchers' Annual Recipes for Success 2006 book.

Prior to freelance writing, Jan taught English and writing and was the editorial manager of a digital publishing company and served on the Board of Judges for Columbia University's Graduate School of Journalism, for 15 years, critiquing and judging collegiate literary magazines from all over the country.

Jan graduated from the University of Alabama at Birmingham with an M.S. in Education with a 4.0 GPA. Prior to earning her master's degree she graduated summa cum laude with a B.S. in Education.
Jan Walsh can also be found on the web at www.jan-walsh.com.
Jan Walsh can be reached by email at jan@jan-walsh.com.
1.  Jan Walsh, ""Seventh Heaven (feature)" ( Wine Spectator: December 31, 2005 )

2.  Jan Walsh, "Wine Talk With Jan Seymour" ( Wine Spectator Online: June 22, 2005 )

3.  Jan Walsh, "The Cellar Surgeon" ( Wine Spectator: May 31, 2005 )

4.  Jan Walsh, "King Chardonnay (cover story)" ( The Wine Report: April/May 2006 )

5.  Jan Walsh, "Buried Pleasure" ( The Wine Report: Winter 2006 )

6.  Jan Walsh, "Wedding Wines" ( The Wine Report: June/July 2006 )

7.  Jan Walsh, "Poetic Napa Valley" ( Birmingham magazine: August 2006 )

8.  Jan Walsh, "Modern-Day Cave Men (Cover Story)" ( Wine Spectator: November 30, 2006 Cover Story )

9.  Jan Walsh, "Stand Out Wines " ( Birmingham magazine: October 2006 )

10.  Jan Walsh, "Fall Friendly Wines " ( Birmingham magazine : November 2006 )

11.  Jan Walsh, "Merlots Miles Missed" ( Birmingham magazine: September 2006 )

12.  Jan Walsh, "Just Desserts " ( Birmingham magazine: November 2006 )

13.  Jan Walsh, "Celebrate With Schramsberg" ( Birmingham magazine: December 1, 2006 )

14.  Jan Walsh, "Wine and Roses" ( Birmingham magazine: May 2008 )

15.  Jan Walsh, "Sonoma Sojourn" ( Birmingham magazine: March 2008 )