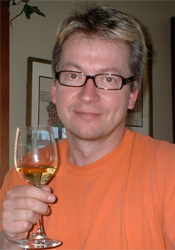 Craig Pinhey grew up in Nova Scotia. He has a B.Sc in Math, B.Eng (Met), M.A.Sc., Env-Eng college diploma, and 12 years of engineering experience in the steel industry, but he threw that all away to become a booze writer. Those 12 years also introduced him to the developing cottage wine and microbrewing industry of Southern Ontario.

The top Canadian graduate of the International Sommelier Guild program in 2000, Craig is very active as a consultant, educator and entertainer, through his home business "Frog's Pad" in Rothesay, New Brunswick. He travels regularly, seeking out good food and drink wherever he goes.

Craig writes weekly columns for the New Brunswick Telegraph Journal - Provincial Edition (www.canadaeast.com) and [here] - New Brunswick's Urban Voice (www.herenb.com), and appears on CBC Radio every Friday. He is on the tasting panel for Wine Access, Canada's most respected wine magazine, for which he also covers the Atlantic Canadian wine and food industries. Craig's work also appears in Progress, East Coast Living and Halifax's The Coast magazines, among other publications.

His drinking philosophy is that people should treat wine and beer with equal respect, as food, and not too seriously. He also feels that overpriced "fine wine" should be "stolen" from the rich and famous and given back to ordinary people.
Craig Pinhey can also be found on the web at www.frogspad.ca.
Craig Pinhey can be reached by email at frogspad@nb.aibn.com.
1.  Craig Pinhey, "New Years Drinking Resolutions, 2005" ( aliant.net: January, 2005 )

2.  Craig Pinhey, "Salt Spring Island Vineyards is a Model for Atlantic Cottage Wineries" ( aliant.net: October, 2004 )

3.  Craig Pinhey, "Domaine De Grand Pre Impresses with Elegant White Table Wines and Crowd Pleasing Hybrid Reds" ( aliant.net: December 2003 )

4.  Craig Pinhey, "DrinX, New Jost Vintages" ( aliant.net, Aliant Inc.: October 25, 2005 )