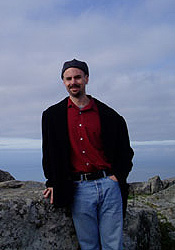 Once a composer hidden among the actors of New York's servers, Jim Clarke took to wine and went on to take courses with the American Sommelier Association and the Court of Master Sommeliers. He turned from selling wine to writing about it in 2003, when he won the American Sommelier Association/Wines from Spain Writing Contest. He then joined the staff of StarChefs.com as the Wine and Spirits Editor. In that position he writes about food and wine pairing, travel pieces, sommelier and winemaker profiles, and other features.
Jim has written about legal issues concerning the wine industry, including an Op-Ed piece for the New York Times on the 2005 Supreme Court wine-shipping case and other articles for Foreign Policy magazine and elsewhere.
He is also the wine columnist for Vox, a new, Hamptons-based magazine premiering in May 2006 (The Wine Rack, with Jim Clarke), and has written for Gastronomica, National Geographic Traveler, and other publications.
Jim has a Masters in Music Composition from the Royal Academy of Music in London, and remains active in the world of contemporary music.
Jim Clarke can also be found on the web at http://www.starchefs.com/wine/html/index.shtml.
Jim Clarke can be reached by email at jimclarke@apexmail.com.
1. New! Jim Clarke, "Sake in the Wind" ( Gastronomica: Winter 2006 )

2. New! Jim Clarke, "Rules of Imbibement" ( Foreign Policy: January 2006 )

3.  Jim Clarke, "Bidding Before Bed (How to get the wine you want when the virtual gavel falls)" ( Wine Enthusiast: October 2005 )

4.  Jim Clarke, "Wines That Travel Well" ( New York Times: 12/07/2004 )

5.  Jim Clarke, "Rias Baixas Sommelier Contest" ( Wines from Spain: 12/2003 )

6. New! Jim Clarke, "Super-Portuguese: Luis Pato" ( StarChefs: 1/2006 )

7. New! Jim Clarke, "Hit the Slopes in Piedmont" ( StarChefs: 1/2006 )

8. New! Jim Clarke, "Blaufrankisch: Winter Winner" ( StarChefs: 12/2005 )

9.  Jim Clarke, "What's in a Name: The Brouhaha in Napa" ( StarChefs: 5/2005 )

10.  Jim Clarke, "Chalk Hill: Staying in Touch with the Land" ( StarChefs: 4/2004 )

11.  Jim Clarke, "Ravenswood: Wines to Drink with Company" ( StarChefs: 5/2005 )

12.  Jim Clarke, "Sakonnet Vineyards" ( StarChefs: 8/2004 )