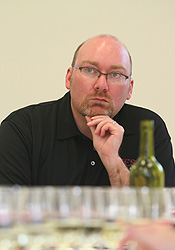 Christopher Waters is co/founder and editor of Vines, a national consumer magazine aimed at Canadians who buy, drink and enjoy wine and are passionate about the subject. For the past 11 years, he has worked as a professional wine writer and educator. His wine column, Waters & Wine, is syndicated through Sun Media Corporation, a wholly owned subsidiary of Quebecor Media Inc., Canada's largest newspaper publisher with 43 paid-circulation and free dailies in key urban markets. The column appears weekly in The Toronto Sun, The Calgary Sun, The Ottawa Sun, The London Free Press, The Edmonton Sun and The Winnipeg Sun as well as community papers throughout the province of Ontario, including the Kingston Whig-Standard, Niagara Falls Review and St. Catharines Standard (where it originated in 2000). The column is archived online at Canoe.ca, part of the Canoe Network that attracts 7.8 million unique visitors per month in Canada (http://lifewise.canoe.ca/FoodDrink/Waters-and-Wine/) and at watersandwine.com. In addition, Waters is head judge of the InterVin International Wine Awards and on staff at the Cool Climate Oenology & Viticulture Institute, Brock University where he develops and teaches three semester-long wine appreciation courses each year.
Christopher Waters can also be found on the web at www.watersandwine.com.
Christopher Waters can be reached by email at waters_wine@yahoo.ca.
1.  Christopher Waters, "Ontario Wines of the Year" ( Waters & Wine : December 29, 2007 )

2.  Christopher Waters, "Crime Plays" ( Waters & Wine : December 8, 2007 )

3.  Christopher Waters, "Clos Calls" ( Waters & Wine : November 24, 2007 )

4.  Christopher Waters, "Under the Cherry Moon" ( Waters & Wine : November 10, 2007 )

5.  Christopher Waters, "Celebrity Skins" ( Waters & Wine : October 20, 2007 )

6.  Christopher Waters, "Ice Capades" ( Waters & Wine : January 26, 2008 )

7.  Christopher Waters, "Cuvée 2008 Highlights" ( Waters & Wine : February 15, 2008 )

8.  Christopher Waters, "In Pursuit of Great Pinot Noir" ( Waters & Wine : February 1, 2008 )

9.  Christopher Waters, "Cuvée Gold" ( Waters & Wine : March 1, 2008 )

10.  Christopher Waters, "Licenced to Thrill" ( Waters & Wine : June 21, 2008 )

11.  Christopher Waters, "Viva La Villa" ( Waters & Wine : June 14, 2008 )

12.  Christopher Waters, "Hidden Bench Revealed" ( Waters & Wine : May 17, 2008 )

13.  Christopher Waters, "Wine Spectator Calls" ( Waters & Wine : April 26, 2008 )

14.  Christopher Waters, "Ontario Wine Awards" ( Waters & Wine : April 5, 2008 )

15. New! Christopher Waters, "Birthday Blass" ( Waters & Wine: May 30, 2009 )

16. New! Christopher Waters, "Dark Star" ( Waters & Wine: June 20, 2009 )

17. New! Christopher Waters, "Message in a Bottle" ( Waters & Wine: May 16, 2009 )

18. New! Christopher Waters, "Horses and Chickens and Sheep [Oh My!]" ( Waters & Wine: May 2, 2009 )

19. New! Christopher Waters, "Fresh Approach" ( Waters & Wine: April 11, 2009 )

20. New! Christopher Waters, "Warm Welcome" ( Waters & Wine: March 7, 2009 )