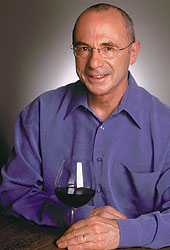 Tony Aspler has been active in the international wine world since 1964. He received his basic wine education in London, England, at Grant's of St. James Wine School. As a consultant and wine judge (and novelist), he makes frequent trips to vineyards all around the world and serves on the North American advisory board of the Masters of Wine. <!>Tony is also the co-founder of Grapes for Humanity, a charitable foundation focused on projects in support of landmine victims.

Tony is recognized as the leading authority on Canadian wines and is founder of the annual Ontario Wine Awards competition. From his former post at the Toronto Star and in countless wine periodicals, Tony has championed the Canadian wine industry through the three decades which saw the transformation of Canada into a world class winegrowing nation. He is the author of Vintage Canada: the Complete Reference to Canadian Wine, now in its third edition, as well as seven other books on wine and a string of mystery novels featuring the remarkable oenological sleuth, Ezra Brant.

Tony's beat at Appellation America covers the Ontario appellation, plus the Niagara Peninsula DVA, Lake Erie North Shore DVA, Pelee Island DVA, and Ontario's newest wine region, Prince Edward County.

Elsewhere on-line Tony Aspler is The Wine Guy.
Tony Aspler can also be found on the web at http://www.tonyaspler.com.
Tony Aspler can be reached by email at tony.aspler@sympatico.ca.
1.  Tony Aspler, VINTAGE CANADA, 4TH EDITION ( McGraw-Hill Ryerson Ltd.: 1999 )

2.  Tony Aspler, WINE LOVERS COMPANION, 3RD. EDITION ( McGraw-Hill Ryerson: 1998 )

3.  Tony Aspler, CANADIAN WINE FOR DUMMIES, WITH BARBARA LESLIE ( CDG Books: 2000 )

4.  Tony Aspler, BLOOD IS THICKER THAN BEAUJOLAIS ( Warwick : 1994 )

5.  Tony Aspler, THE BEAST OF BARBARESCO ( Warwick: 1996 )

6.  Tony Aspler, DEATH ON THE DOURO ( Warwick: 1997 )

7.  Tony Aspler, TRAVELS WITH MY CORKSCREW ( McGraw-Hill Ryerson: 1997 )

8.  Tony Aspler, "Wine Capital of Canada" ( Tidings Magazine: Dec/Jan 2005 )