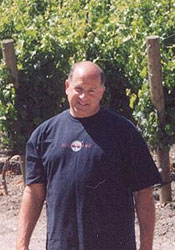 Richard Levin's career in the wine business started in the Chicago suburbs in the late 1970's. The mid 1980's found him selling fine wines in the desert of Southern California, followed by a brief stint selling wines in Southwestern Colorado before returning to Los Angeles where he represented a portfolio of wines from the last remaining winery in LA!

Richard's employment had him selling 2 buck Chuck when Charles still owned the brand. He made a very, very brief appearance with those famous brothers from Ceres to sell their portfolio in the Valley just moments before 9-11. So in actuality Richard Levin's career experience as a wine merchant could be summed up as the only guy from Chicago to ever sell 2 buck Chuck twice.

Most of Richard's knowledge is about people and customers and the business in general. His wine knowledge, like the rest of us, is related to his experiences with what he has tasted and enjoyed. Richard applies his experience in the wine business to his "Winevada" column in the Sierra Sage (www.thesierrasage.com), Nevada's Premier Community Newspaper.
Richard Levin can be reached by email at
grosspointpark1968@yahoo.com
.
1.  Richard Levin, "Winevada" ( The Sierra Sage: 01/01/04 to 07/01/05 )