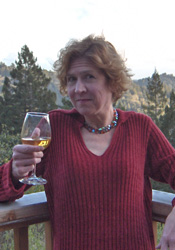 Laura Ness is a long-time Santa Cruz Mountains resident who enjoys writing about wines with character and the sometimes insane characters who make them. After too many years of sniffing dri-markers in high tech company conference rooms, she decided that the smells of fermentation were far more compelling. She has been writing regularly for Vine Times magazine since 2000, as well as for the online newsletters californiawineandfood.com and tastetravel.com. Her main beats have included the Anderson Valley, Mendocino, Santa Cruz Mountains, Livermore and Paso Robles, although she can be easily talked into waxing poetical over good wine from any region. Over the last two decades of wine browsing and collecting around California, she has witnessed first-hand the spectacular growth in all of these areas, and enjoys providing touring suggestions for visitors to the tasting room where she frequently works on weekends.

Laura enjoys participating in fundraising events for worthy social causes, and often arranges wine tastings and auctions for events like "Night of Magic," the annual fundraiser for Cupertino-based De Anza College. Her passion for Pinot Noir, which stems from an unlikely marketing collaboration between a high tech company named Calera, and Calera Wine Company in Hollister, led her to help co-organize "Pinot Paradise," an annual celebration of Pinot Noir from the Santa Cruz Mountains, held yearly at the end of March. Laura also teaches a seminar series called "Meet the Winemakers," at the California History Museum on the De Anza College campus. She regularly teams up with Whole Foods to offer "Inside the World of Cheese," a unique cheese and wine-pairing class that explores the histories and parallels of the making of these two basic food groups.

Laura has contributed to Wine Business Monthly, Vineyard & Winery Management, Monterey Travel, California Wine This Week, Mountain Network News and the Livermore Independent, for which she writes a yearly series of Harvest stories. When not swirling or sniffing, she enjoys traveling the backroads of California discovering vineyards old and new and capturing their unique stories to share with all.

Laura's editorial beat for AppellationAmerica focuses on Livermore Valley AVA, as well as the region she calls home, the Santa Cruz Mountains AVA, and her characterful neighbors who are shaping the image of this diverse appellation.
Laura Ness can be reached by email at
l.ness@appellationamerica.com
.