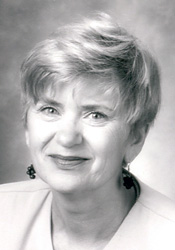 After an 11-year career in radio broadcasting, involving PR and photographing rock and rollers on tour passing through Portland, Maine, Jo Diaz moved to California (1992). Rather than continuing in radio, Diaz segued into the wine industry.

It began at Belvedere Winery with a part-time position in their tasting room, until Diaz eventually went full-time. Working for Belvedere for five years in all segments of the business, including marketing, PR, and sales, Diaz also accumulated over 60-credit units in wine sales and marketing. From Belvedere, Diaz became a Wine Educator at Robert Mondavi, and finally the Director of Public Relations for Ironstone Vineyards. This was all prior to starting Diaz Communications, an integrated PR, wine sales, and marketing company, including Web services, in 2001.

Hired by Foppiano Vineyards, Diaz organized the program for their Petite Sirah Symposium. At the symposium, Diaz realized that publicity was needed for Petite Sirah. With the blessings of Foppiano, Diaz began "PS I Love You," and advocacy group for Petite Sirah. Today, she is still the executive director.

In the midst of this, Diaz admits she's a writer first, and publicist second, and an organizer third, in terms of her passions. Throughout her publicist career, Diaz has found time to write independent articles that continue to be published in Patterson's Beverage Journal, Wine Business Monthly, and Wine Country This Week. Her stories have also been published in The Wine News and Vine Time. Prior to the wine industry, Diaz's images were constantly published in national radio and record trade magazines.

Diaz's latest writing outlet is her Web blog at http://www.wine-blog.org, and her winery cat site at http://www.winerycats.com. Diaz acknowledges that copy writing for her clients is the core competency that she brings to Diaz Communications, and finds daily writing a must. Her creative requires little editing.
Jo Diaz can also be found on the web at www.wine-blog.org.
Jo Diaz can be reached by email at jo@diaz-communications.com.
1.  Jo Diaz, "War Memoirs of Leo Trentadue" ( Wine Country This Week: September 2005 )

2.  Jo Diaz, "True Champions of Petite Sirah" ( Patterson's Beverage Journal: September 2005 )

3.  Jo Diaz, "Petite Sirah is a True Conundrum, Part I" ( WineFest: September 2005 )

4.  Jo Diaz, "Petite Sirah is a True Conundrum, Part II" ( WineFest: September 2005 )

5.  Jo Diaz, "On The Road Again, R.R. Style: Blue Tooth Tour" ( Patterson's Beverage Journal: June 2005 )

6.  Jo Diaz, "How to Manage a National Hotel Restaurant Account" ( Patterson's Beverage Journal: June 2005 )

7.  Jo Diaz, "Blue Tooth Tour: The Hysterical & Historical" ( PS I Love You Web: March 2004 )

8.  Jo Diaz, "American Wine Marketing in Global Context" ( Wine Business Monthly: June 2002 )

9.  Jo Diaz, "Changing Face of the American Wine Industry" ( Wine Business Monthly: Mar. 2002 )

10.  Jo Diaz, "Cat O'Wine Tales" ( The Wine News: July 1995 )

11.  Jo Diaz, "Road Warrior Survival Guide" ( Wine Business Monthly: September 4, 2001 )

12.  Jo Diaz, "Hand Crafting His Futures, One Barrle at a Time" ( Patterson's Beverage Journal: Dec. 2005 )