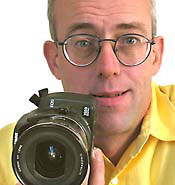 Bertrand Celce is a freelance photographer based in Paris, France. He is the webmaster, photographer and writer of wineterroirs.com, a wine blog with an approach to bring to the wine lovers of the world a personal, visual, in-situ perspective on the vignerons, the terroirs, and on other wine-related subjects, in France and elsewhere.

Bertrand's wine blog was selected in an article by Food & Wine (October 2005) as one of the seven best wine blogs around. The article is available online at: www.foodandwine.com/articles/seven-best-wine-blogs.
Bertrand Celce can also be found on the web at http://www.wineterroirs.com.
Bertrand Celce can be reached by email at bert@celce.net.