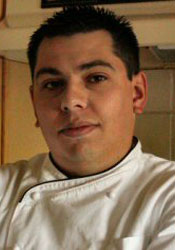 Raised in Spain and eventually moving to Providence, Rhode Island, gave Al Hernandez a unique perspective on life. Working at a small Italian restaurant in Rhode Island under the strict hand of an Italian grandmother taught Al to follow his heart and passion, food and wine.

A graduate of Johnson & Whales University in Providence, Rhode Island, Al then moved to Napa Valley, California to continue his exploration of food and wine. Al has worked alongside famous chefs including Emeril Lagasse, Julia Child and various other TV personalities. He is currently the food and wine editor for The Vine Times, and also hosts nationally syndicated food & wine segments. Al has also been seen on the Food Network, Fine Living and NBC.
Al Hernandez can also be found on the web at http://www.thevinetimes.com.
Al Hernandez can be reached by email at editor@thevinetimes.com.