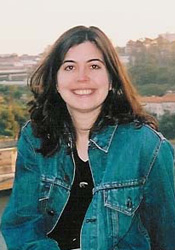 Rebecca Chapa (D.W.S., C.W.E.), is a Certified Wine Educator and holds the Diploma Wine and Spirits from the Wine & Spirits Education Trust in London. She has taught wine classes for consumers with her own company, Wine by the Class, since 2001. In 1999 she launched Tannin ManagementSM, a San Francisco-based wine consulting firm.

Chapa is a Contributing Editor for Wine & Spirits Magazine and writes freelance for Santé Magazine, Wine Business Monthly, Patterson's Beverage Journal and Cooking Pleasures. She also wrote chapters on California wine regions for "The Global Encyclopedia of Wine."

Chapa hones her palate tasting as an international judge for competitions such as the Concurso Internacional de Vinhos Cidade de Porto (Portugal), The Los Angeles County Fair, Long Beach Grand Cru, Dallas Morning News and San Francisco International Wine Competition. She was a judge for Santé Magazine's Restaurant Wine and Spirits Hospitality Awards in 2000.

She has also been a featured speaker for Restaurant Business' Menus 2001 Conference, Motto Kryla & Fisher's Wine Trends 2001 Luxury Seminar, World Wine Market, the Pacific Rim Wine Education Center, Crystal Cruises, Celebrity Cruises and the Wine Institute of California's Wine by the Glass Program in Osaka and Tokyo, Japan. Chapa has been featured on television in a satellite media tour for Canyon Road Winery, a pilot for Wine Country Living and as a guest reporter for Latin Eyes.

Chapa is an adjunct instructor at the Culinary Institute of America teaching Tasting Terroir, Mastering Wine I, European Wines II, and Fortified and Dessert Wine Intensive. She also teaches a class on Sensory Evaluation of Wine at UC Berkeley Extension.
Rebecca Chapa can also be found on the web at http://www.rebeccachapa.com.
Rebecca Chapa can be reached by email at chapz@earthlink.net.
1.  Rebecca Chapa, GLOBAL ENCYCLOPEDIA OF WINE ( Global Publishing: 2000 )

2.  Rebecca Chapa, "Anejo Tequila: Mexico's Superstar Spirit" ( Sante Magazine: October 2005 )

3.  Rebecca Chapa, "Bar Tab: All Agave Academy (Cover Story)" ( Sante Magazine: November 2004 )

4.  Rebecca Chapa, "Portuguese Table Wines" ( Patterson's Beverage Journal: February 2005 )

5.  Rebecca Chapa, "Extraction" ( Wine Business Monthly: September 10, 2002 )

6.  Rebecca Chapa, "Ripeness" ( Wine Business Monthly: May 1, 2002 )

7.  Rebecca Chapa, "Mushroom Matching" ( Sante Magazine: September/October 1999 )

8.  Rebecca Chapa, "The Grape Attraction" ( SOMA Magazine: May/June 2000 )