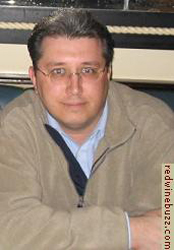 Easily, the wine writer with the most unpronounceable last name, Arthur focuses on California's Central Coast in his reviews, articles and interviews. Making regular trips to wine country each month, he believes that "the best reporting comes from first hand experience of the subject".

He first became interested in wine as a young man, when a relative from France visited his family, bringing a few bottles of wine. He had no knowledge of wine at the time, but was intrigued and fascinated.

Arthur has used his scientific background and intellectual appetite to learn about wine and wine making. His medical training (he specializes in Nuclear Medicine -- a type of diagnostic imaging) provides him with a model for describing wine in a detailed and objective manner. He strives to describe each wine based on its own merits and not his own preferences.

Arthur also believes in providing his readers resources to answer the questions which undoubtedly arise when one reads a wine review or an article. This includes a clear explanation of his tasting methodology and rating system. Both are available for viewing by all who visit redwinebuzz.com.
Arthur Z. Przebinda can also be found on the web at www.redwinebuzz.com.
Arthur Z. Przebinda can be reached by email at xenophile@redwinebuzz.com.
1.  Arthur Z. Przebinda, "Paradise found." ( www.redwinebuzz.com: May 2007 )

2.  Arthur Z. Przebinda, "A window on history and the future" ( www.redwinebuzz.com: May 2007 )

3.  Arthur Z. Przebinda, "The Abridged Guide to Sparkling Wine" ( redwinebuzz.com: July 2007 )

4.  Arthur Z. Przebinda, "Currents on the pallet" ( redwinebuzz.com: October 2007 )

5.  Arthur Z. Przebinda, "Anthony Terlato's thoughts on wine: A synergy of site, imagination and food." ( redwinebuzz.com: November 12, 2007 )

6.  Arthur Z. Przebinda, "A New Wine Legacy For EOS. " ( redwinebuzz.com: April 28, 2008 )