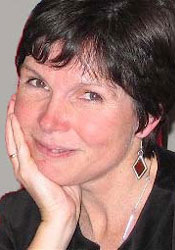 Born in Paris and raised in the South of France, Catherine Granger grew up surrounded by great wine and food. Her favorite wine quote is: "Good wine is a necessity of life for me." ~ Thomas Jefferson

A software engineer by profession, she moved to the Bay Area in 1989 and worked for high tech companies such as Tandem and Sun Microsystems. She also discovered the great California wines. Her passion for wine grew more serious when she and her husband built a 1,000 bottle wine cellar under their house. At some point, tasting and collecting wine became more than a hobby. She needed a software to keep track of her growing wine collection. In 2003 she decided to start building her own online cellar management website. ManageYourCellar.com was officially launched a year later, and since then, has attracted wine lovers from all over the world.

Catherine loves to share her passion for wines with others. She was regularly posting tasting notes and information about wine on her website, but eventually found the blog format more interactive for this activity. She now writes several articles a week for her blog Purple Liquid - a wine and food diary, whether it's about a new wine she's discovered, a winery she's visited, a wine book she loved reading, or the tasting notes of a blind tasting event.

At home, Catherine particularly enjoys mature Bordeaux, Alsatian Riesling, and pairing wine with food. And when she is not writing about wine, maintaining her website or tasting wines, she loves reading, hiking, skiing and spending time with her family.
Catherine Granger can also be found on the web at www.manageyourcellar.blogspot.com.
Catherine Granger can be reached by email at purpleliquid@manageyourcellar.com.