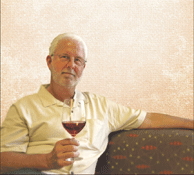 Russ Briley is a wine enthusiast who enjoys writing about the basics of wine and sharing his wine experiences with his readers. Russ, wine columnist of "Wine 101" for the Ventura County Star Newspaper writes two columns a month. Russ highlights a "winery of the month" and also writes a basic wine knowledge column. His articles also appear in the monthly e-mail newsletter "Vino" which is emailed to thousands of wine enthusiasts in Ventura County, California. His articles were recently picked up in a new bi-monthly leisure magazine in Washington called "Bellingham Alive". As Russ gains wine knowledge he loves to share what he has learned with his readers. Russ' tongue and cheek articles about him and his wife Nancy's attempt at winemaking educate readers while entertaining them at the same time. While Russ travels to many wineries in and out of California, he focuses much of his attention on the wineries of Santa Barbara County and Paso Robles. Russ' winery of the month articles centers in on the vintners and highlights their history, philosophy and passion for winemaking. Russ is currently immersed in a wine studies program at College of the Canyons in Santa Clarita California.
Russ Briley can be reached by email at
rbriley@VenturaCountyStar.com
.
1.  Russ Briley, "Racking and Hacking: Dangers of Winemaking " ( "Vino" Newsletter: Ventura County Star: E.W. Scripps: 01/20/09 )

2.  Russ Briley, "Wine 'term-enology'" ( "Vino" Newsletter: Ventura County Star: E.W. Scripps: 08/29/08 )

3.  Russ Briley, "Experience new wines from around the world" ( "Vino" Newsletter: Ventura County Star: E.W. Scripps: 10/24/08 )

4.  Russ Briley, "Winery of the Month: Clos Pepe Vineyard" ( "Vino" Newsletter: Ventura County Star: E.W. Scripps: 08/29/08 )

5.  Russ Briley, "Winery of the Month: D'Alfonso-Curran #1" ( "Vino" Newsletter: Ventura County Star: E.W. Scripps: 04/24/09 )

6.  Russ Briley, "Winery of the Month: D'Alfonso-Curran #2" ( "Vino" Newsletter: Ventura County Star: E.W. Scripps: 06/11/09 )

7.  Russ Briley, "It has how much alcohol?" ( "Vino" Newsletter: Ventura County Star: E.W. Scripps: 04/24/08 )

8.  Russ Briley, "Pinot noir specialists tap many vineyards" ( "Vino" Newsletter: Ventura County Star: E.W. Scripps: 07/09/09 )

9. New! Russ Briley, "Take a day trip to wine country" ( "Vino" Newsletter: Ventura County Star: E.W. Scripps: 07/09/09 )

10. New! Russ Briley, "Blazin' the Oregon wine trail" ( Ventura County Star: E.W. Scripps: 07/19/09 )

11. New! Russ Briley, "Winery of the Month : Ancient Peaks Winery" ( Ventura County Star: E.W. Scripps: 09/27/2009 )

12. New! Russ Briley, "Grape harvest is a triumph over attackers" ( Ventura County Star E.W. Scripps: 09/13/2009 )

13. New! Russ Briley, "Take your bottle it's really OK" ( Ventura County Star: E.W.Scripps: 10/11/2009 )

14. New! Russ Briley, "Odd name on bottles of some fine pinots" ( Ventura County Star: E.W. Scripps: 08/30/2009 )

15. New! Russ Briley, "Ortman is more than a vintner" ( Ventura County Star: E.W. Scripps: 08/02/2009 )

16. New! Russ Briley, "Delicious hug is made for sharing" ( Ventura County Star; E.W. Scripps: 10/25/2009 )