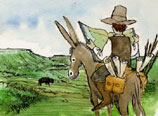 Oklahoma is re-establishing its once thriving wine industry. In the 1920s, winemaking played a significant role in the state's economy, before the dust bowl and Prohibition killed it. In the early 1990s, the industry was struggling. Fortunately, interest in diversifying the state's agriculture, favorable changes to state laws, and recent recognition of distinct state microclimates combined to help restore a viable wine industry. The industry benefits from a strong grape growers' association repesenting the wineries on a wide range of topics, including recent conversations with state legislature regarding the negative effects of 2,4-D spray on agricultural crops, particularly grape vines. Oklahoma now has close to 40 wineries and a steadily growing number of acres under vine. Most of its vineyard activity is in the northeast, where two of its wineries fall just outside of the Ozark Mountain AVA. In the northwest, a small cluster of wineries thrives in higher elevations around Enid. A single winery grows exclusively Vitis vinifera varietals at high altitudes on the state's western edge. A wide range of varieties are grown in the state, including native American grapes, French-American hybrids and vinifera. A strong sense of growing the right grapes to match the terroir is emerging and it will take time to determine the best wines for the climate.

Taking Focus on Appellation
By
Clark Smith
December 9, 2013
Appellation America has entered its second decade on the web. Much has changed since the start, but the core focus remains characterizing the unique flavor profiles of North America's appellations and the natural influences and human cultural forces which influence them.   [>] continue

Whitehall Lane Winery, A 20 Year Story of Vineyards
By
Roger King
July 15, 2013

Embracing Virginia's Terroir
By
Richard Leahy
June 2, 2013

Shake Ridge Ranch - Gem of the Sierra
By
Roger King
May 16, 2013

Tannat, Vibrant Across the America's
By
Barbara Trigg
May 6, 2013

Welcome Middleburg Virginia AVA
By
Roger King
January 4, 2013

Humboldt County: Is Too Much Terroir Possible?
By
Clark Smith
October 14, 2012

Historic Buena Vista Winery Restored
By
Barbara Trigg
September 18, 2012