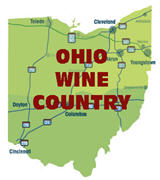 Ohio: Oldest Brand-New Appellation in America
by Clark Smith
July 24, 2009
The wine regions of Ohio have provided us with overwhelmingly convincing proof that their venerable status as world class players is well deserved. If your taste runs to classic vinifera wines of aromatic intensity and good acidity, I cannot name a region in the New or Old World which offers such varietal and stylistic diversity, whether you're in search of a special collectible for your cellar or a jolly good drink that will amaze tonight's guests.
[>] see full story
Related Stories...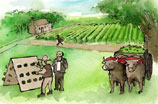 By 1860, the Catawba grape had risen to prominence in Ohio, and the state led the entire nation in wine production. It wasn't just coincidence. First planted in the state by Nicholas Longworth in 1825, Catawba quickly caught on with consumers. American wines were fairly potent at the time and wine drinkers enjoyed the light, semi-sweet style of wine made from the grape. Longworth even used it to produce the country's first 'champagne' – Sparkling Catawba. The history of winemaking here can actually be traced back to 1823. At that time, Longworth lived in the Ohio River Valley, with vineyards planted to the Alexander and Isabella grapes. It's hard to imagine where the Ohio wine inidustry might be today if not for Prohibition, which wiped out essentially every vineyard in the state in the early part of the 20th century. With Prohibition now just a bad memory, more than 95 wineries again operate in the state, with more in the planning stages.

WAWGG Banquet Explores Washington State Terrior
By
Roger King
February 2, 2014
The multiple appellations of Washington will be tasted in a unique banquet dinner at this years Washington Association of Wine Grape Growers Annual Meeting and Trade Show. Nuances of that regional diversity have been paired with the meal being prepared by Chef Dan Carr.  [>] continue

Taking Focus on Appellation
By
Clark Smith
December 9, 2013

Whitehall Lane Winery, A 20 Year Story of Vineyards
By
Roger King
July 15, 2013

Embracing Virginia's Terroir
By
Richard Leahy
June 2, 2013

Shake Ridge Ranch - Gem of the Sierra
By
Roger King
May 16, 2013

Tannat, Vibrant Across the America's
By
Barbara Trigg
May 6, 2013

Welcome Middleburg Virginia AVA
By
Roger King
January 4, 2013

Humboldt County: Is Too Much Terroir Possible?
By
Clark Smith
October 14, 2012