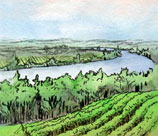 Being the largest viticultural area in America at 16 million total acres, the Ohio River Valley AVA actually spans four states: West Virginia, Ohio, Indiana and Kentucky. The history of wine making here goes back over 200 years to when The Kentucky Vineyard Society was first established in 1798. At one time, the Ohio River Valley was the largest wine producing region in North America. This all changed in the second half of the 19th century when the local manpower was depleted because of the Civil War, leaving few to work the vineyards. Subsequent years saw the vineyards ravaged by mildew diseases like oidium (powdery mildew). The ultimate blow to the region's wine industry came in 1919 with national Prohibition. When the second wine revolution began in the early 1960's, the historic Ohio River Valley region would rebound and vineyards again flourish with dozens of wineries dotting the banks of the gently meandering Ohio River. Wineries in all four states are producing quality wines from hybrids such as Baco Noir, Marechal Foch, Seyval Blanc and Vidal, along with vinifera varieties including Cabernet Sauvignon, Riesling, and Chardonnay.

Taking Focus on Appellation
By
Clark Smith
December 9, 2013
Appellation America has entered its second decade on the web. Much has changed since the start, but the core focus remains characterizing the unique flavor profiles of North America's appellations and the natural influences and human cultural forces which influence them.   [>] continue

Whitehall Lane Winery, A 20 Year Story of Vineyards
By
Roger King
July 15, 2013

Embracing Virginia's Terroir
By
Richard Leahy
June 2, 2013

Shake Ridge Ranch - Gem of the Sierra
By
Roger King
May 16, 2013

Tannat, Vibrant Across the America's
By
Barbara Trigg
May 6, 2013

Welcome Middleburg Virginia AVA
By
Roger King
January 4, 2013

Humboldt County: Is Too Much Terroir Possible?
By
Clark Smith
October 14, 2012

Historic Buena Vista Winery Restored
By
Barbara Trigg
September 18, 2012