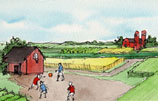 America's first wine industry … the heart of the largest wine region on the continent … NO!..not California, but Indiana - at least before the Civil War, vine diseases and, ultimately, Prohibition proved devastating to the state's vineyards. Many are surprised to find that the Hoosier State had established America's first successful commercial wine venture as early as 1802. By the mid-1800s, Indiana vineyards along the Ohio River Valley were part of the largest wine industry in North America, a region known as The Rhineland of America. At its height Indiana ranked 10th in total U.S. grape production. But after faltering, it would take most of the 20th century before the industry was revived. Today, government financial support and active research assist the nearly 30 wineries in the state. There are now over 270 acres under vine, producing about 900,000 bottles of wine annually, with strong indications for continued growth. Indiana wineries are spread across the state, from the Lake Michigan shore to the southernmost reaches along the Ohio River, the heartland of the multi-state Ohio River Valley AVA.

Taking Focus on Appellation
By
Clark Smith
December 9, 2013
Appellation America has entered its second decade on the web. Much has changed since the start, but the core focus remains characterizing the unique flavor profiles of North America's appellations and the natural influences and human cultural forces which influence them.   [>] continue

Whitehall Lane Winery, A 20 Year Story of Vineyards
By
Roger King
July 15, 2013

Embracing Virginia's Terroir
By
Richard Leahy
June 2, 2013

Shake Ridge Ranch - Gem of the Sierra
By
Roger King
May 16, 2013

Tannat, Vibrant Across the America's
By
Barbara Trigg
May 6, 2013

Welcome Middleburg Virginia AVA
By
Roger King
January 4, 2013

Humboldt County: Is Too Much Terroir Possible?
By
Clark Smith
October 14, 2012

Historic Buena Vista Winery Restored
By
Barbara Trigg
September 18, 2012