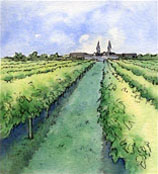 Kentucky agriculture, in comeback mode since the decline of the tobacco industry, is looking back to its early history for a new cash crop. In 1799, one of the first attempts at commercial winegrowing in the U.S. occurred in Kentucky, with plantings by the Kentucky Vineyard Society. By the mid-1800s, the Bluegrass State was the third largest wine-producing state in America. Prohibition snuffed out the booming industry. But in 1976, a state law allowed farm wineries to operate and new vineyards and wineries soon followed. In 1982, the defunct Kentucky Vineyard Society was resurrected. Most significant is the state program that funds half the startup cost of new vineyards. Wine grape acreage quadrupled from 1998 to 2002. With the new plantings, Cabernet Sauvignon, Chardonnay and Cabernet Franc have gained the most ground, shifting the balance to vinifera from native and hybrid varieties.

Bi-State Upper Hiwassee Highlands an AVA
By
Roger King
August 6, 2014
In the southern Blue Ridge Mountains of North Carolina and Georgia vineyards are small and few, yet the establishment of the Upper Hiwassee Highlands could bring much more.  [>] continue

The Kentucky Wine Industry
Soars Once Again
By
Tricia Houston
August 30, 2007

Kentucky's Legislature Cashes In ~
Will Kentucky's Wineries Have to Cash Out?
By
Tricia Houston
February 5, 2007
[>] see all Kentucky features (2)

Remote Manton Valley New California AVA
By
Roger King
July 31, 2014

WAWGG Banquet Explores Washington State Terrior
By
Roger King
February 2, 2014

Taking Focus on Appellation
By
Clark Smith
December 9, 2013

Whitehall Lane Winery, A 20 Year Story of Vineyards
By
Roger King
July 15, 2013

Embracing Virginia's Terroir
By
Richard Leahy
June 2, 2013