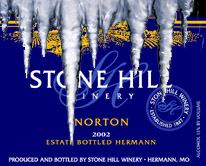 Spring Freeze Leads to Summer Squeeze
An early warm Spring followed by a devastating late freeze in Missouri has left wineries wondering where their grapes will come from this year.
by Joe Pollack
May 30, 2007
---
S
pring Can Really Hang You Up the Most
, wrote poet-songwriter Fran Landesman, not expecting that seasonal climate could cause more difficulties than seasonal sex appeal.
Missouri
proved it this spring with a March that was the third-warmest on record, bringing buds many weeks earlier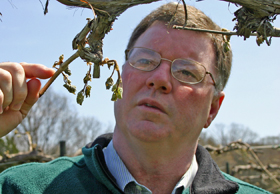 than usual. And then came the Easter weekend disaster. Three successive nights of 20-degree temperature - the worst cold snap in 118 years - destroyed the bulk of the state's grape crop.
"The
labrusca
was wiped out," said Jon Held, a member of the family that has operated
Stone Hill Winery
in Hermann since the 1950s, and the vineyard manager for the state's largest winery. "Even secondary growth was destroyed. We had 16 acres of
Concord
s, half two years old and half three years old, ready for their first crop. All gone. Some of the older Concords will probably be okay next year, but not the young ones. Last year we produced 400 tons of Concord and
Catawba
. . ." His voice trailed off.
The Stone Hill hybrids like
Seyval
and
Vidal
also took a beating, although there may be some secondary and tertiary growth, Held noted.
Norton
, the native American grape (
vitis aestivalis
) that produces Missouri's best red wine, and also a fine port, is a little tougher.
"The fact that both Norton and
Vignoles
have late bud breaks helped both of them," Held said, "but there's still significant damage. Part of the survival rate, of course, depends on the specific location of the vineyards."
Dave Johnson, the Stone Hill winemaker since 1978, described the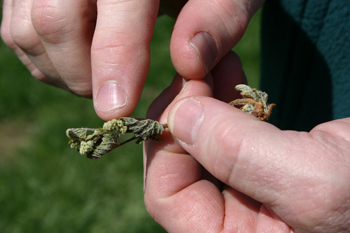 damage as the worst in his almost-30 years at the winery, and discussed the multi-pronged problem faced by Missouri wineries, in the wake of the Easter disaster.
"We have to buy grapes from other states," he said, "and we already know that grapes like Norton and Vignoles are not even available. And with all the sources around the country, some simply will not be up to our standards. In addition, even though our vines are not producing, we will have to do all the other chores of farming that we do even when there is going to be a full crop."
Most observers see wine prices going up, but not immediately. For the next year or so, there will be plenty of grapes and wine from the last couple of vintages. The fact that 2006 was a bumper crop will help. The squeeze will come a year or two down the road.
Mark Baehmann, winemaker at
Mount Pleasant Winery
, in Augusta, estimated losses at 60 to 70 percent, with a large amount of trunk and arm damage. He said that a great deal of replanting and retraining the existing vines would be necessary.
"The Vidal was mixed," he said, "depending on the location. Norton and Vignoles did the best, but we lost 90 percent of our Rayon d'Or. Interestingly, we have a lot of six-year-old St. Vincent that did pretty well, but the older vines, those about 15 years old, are gone."
Tony Kooyumjian, owner of the
Augusta Winery
in the same eastern Missouri town that is AVA No. 1 among American viticultural districts, discussed losses of about 70 per cent in his Norton vineyards and around 60 percent among his other grapes. Still, Kooyumjian pointed out that the 2005 and 2006 vintages were large enough – and good enough – to provide plenty of wine for this year's tourists and buyers.
Grapes Allowed to be Imported This Year
Missouri's wineries, stretching from the banks of the Mississippi River on the east to those of the Missouri River on the west, took enough of a beating that the state Department of Agriculture ruled that Missouri wineries can buy out-of-state grapes and juice for 2007. Wineries can buy necessary grapes or juice to produce as much as 95 percent of the amount of wine which they produced last year.
In the
Ozark Highlands
AVA of central Missouri, problems were about the same. Phyllis Meagher of
Meramec Vineyards
expects a crop that will be about 20 per cent of normal for Norton and some of the hybrids.
Vitis labrusca
like Concord and Catawba are a total loss, as they are in other viticultural areas. Losses were not limited to grapes in Missouri. Peaches, blueberries, apples and other fruits are also in poor shape for 2007. It all adds up to a spring that Missouri fruit farmers and vineyard owners will be talking about for years to come.