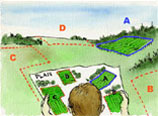 If current trends continue, grapes just might conquer the Land of Lincoln! The number of acres under vine in Illinois has exploded by more than 500% since 1997, and the number of wineries has mushroomed to nearly 80. Illinois is full of sloping hills and rich loamy soil, an excellent base for grapes. Most wineries are clustered in southern Illinois, where they benefit from long sunny days. The obstacles to these vineyards are the long, harsh winters and the use of pesticide 2,4-D in surrounding agricultural areas. With the number of wineries and vineyard acreage soaring, producers are focusing on the things they do well. They continue to nurture their highly-successful French hybrids, which rank as the top six varietals planted in the state. They also continue to lobby for government investment, to promote wine-related tourism and to increase wine awareness.

Taking Focus on Appellation
By
Clark Smith
December 9, 2013
Appellation America has entered its second decade on the web. Much has changed since the start, but the core focus remains characterizing the unique flavor profiles of North America's appellations and the natural influences and human cultural forces which influence them.   [>] continue

Ilinois hybrids challenged by Cabernet Franc
By
Bill Shoemaker
April 13, 2012
[>] see all Illinois features (1)

Whitehall Lane Winery, A 20 Year Story of Vineyards
By
Roger King
July 15, 2013

Embracing Virginia's Terroir
By
Richard Leahy
June 2, 2013

Shake Ridge Ranch - Gem of the Sierra
By
Roger King
May 16, 2013

Tannat, Vibrant Across the America's
By
Barbara Trigg
May 6, 2013

Welcome Middleburg Virginia AVA
By
Roger King
January 4, 2013

Humboldt County: Is Too Much Terroir Possible?
By
Clark Smith
October 14, 2012