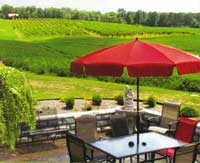 Ilinois hybrids challenged by Cabernet Franc
Like most cold climate states, Illinois has long used French and American hybrid grapes to beat the tough winter months. Chambourcin and Traminette have been trusted for good wines of the region, but the Shawnee Hills in southern Illinois is now showing Cabernet Franc can not only thrive, but produce outstanding wines.
by Bill Shoemaker
April 13, 2012
---
<!>The state of Illinois is very long, north-to-south, resulting in broad diversity of wine grape growing regions. A combination of weather and soils are at play yet it is the winter months that present the real issues to vinifera. French and American hybrid wine grapes have been the historical players in most regions of the State as a result. Cabernet Franc is now challenging and changing that in the
Shawnee Hills.